Mumia Abu-Jamal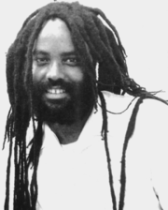 Mumia Abu-Jamal is a political activist and journalist from Philadelphia who is on death row in Pennsylvania.
He is in prison for the alleged shooting of a police officer in 1981. Mumia has attracted much international support, both from those convinced of his innocence and those opposed to the death penalty generally.
Whatever his guilt or innocence, my focus here is not on this crime and whether or not his conviction was warranted, but on Mumia's remarkable continued political work.
Since his imprisonment, Abu-Jamal has published Live from Death Row, a book on life inside prisons. He has also completed a Bachelor of Arts and Master of Arts by distance education. From his cell he has made commencement speeches via tape to graduating classes at UC Santa Cruz, Evergreen State College, Antioch College, and Occidental College. He has his own radio program that airs regularly and can be heard online at Prison Radio. Mumia has been a guest speaker on Immortal Technique's musical albums.
His mellifluous voice has been set to many video clips; two are featured below:
Fear immobilizes; that is its intent.

But hope opens up, as spring opens up the earth.

Don't recreate the '60s. Make this moment, this day, this era, one of speaking out against the Empire. Make it a time for joining together with others who share your fears, and your hopes.

Make it an age of marching against the madness that assaults our senses.

Make it a chance for change, or it will be with us, forever.
*** UPDATE on his trial (3 April).
See also mumia.org (Philadelphia), freemumia.com (New York City), freemumia.org (San Francisco), or emajonline.com (Educators for Mumia).
Empire of Fear 4:17
War for the Eternal Empire 3:57