Jewish UK MP Compares Israeli Soldiers To Nazis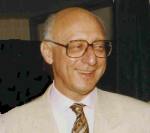 Thank you Gerald Kaufman, MP for speaking up. Labour MP Kaufman has urged an arms embargo and compared Israeli troops in Gaza to the Nazis who forced his family to flee Poland.
Sir Gerald Kaufman said the Israeli government was "ruthlessly and cynically" exploiting the guilt over the Holocaust as justification for the assault on Gaza. He also questioned the claim that many of the Palestinian victims were militants as "the reply of the Nazi" and added: "I suppose the Jews fighting for their lives in the Warsaw ghetto could have been dismissed as militants."
"My grandmother was ill in bed when the Nazis came to her home town… a German soldier shot her dead in her bed," he told MP in Parliaments. "My grandmother did not die to provide cover for Israeli soldiers murdering Palestinian grandmothers in Gaza."
He accused the Israeli government of seeking conquest, adding, "They are not simply war criminals, they are fools."
Can one imagine a Gerald Kaufman in the US Congress? To be sure, there is Ron Paul and Dennis Kucinich and in the past, the laudable stance of Paul Findley. The US Congress is still the most Israeli-occupied territory of them all. Against that backdrop, the courageous few public officials who possess integrity are to be lauded and deserve our full support.
See: