On This Day in Peace History: the Greenham Common Women and other inspiring people power episodes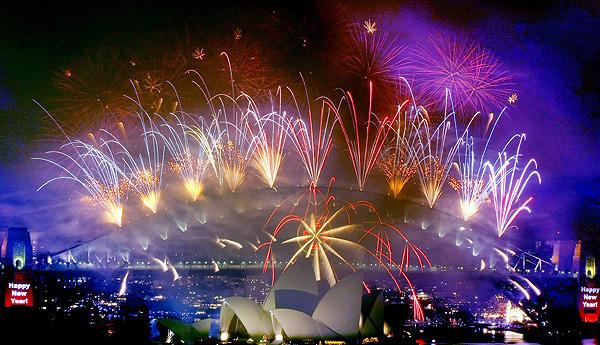 A very Happy New Year to you and yours. May 2008 be a good one for you personally and a more peaceful one for the world. We remember that these are sometimes quite politically grim times for a good slice of humanity.
Yet even in the axial Israel-Palestine conflict, most obviously a key focus here, there have been promising glimmers of action and initiatives throughout 2007. Mazin Qumsiyeh has assiduously listed many of them in his excellent mailing list newsletter (see below, after the fold, for a summary).*
More locally in Australia, John Howard was ousted both from government and from his own seat, and David Hicks has finally been released from the Guantanamo Bay gulag, and has just finished serving the remainder of his sentence in his home town. With some of the mainstream media here reporting on this atrociously, it bears remembering that there is absolutely no evidence that David Hicks actually committed any crime whatsoever. He admitted to the charge of "supporting terrorism" as the linchpin of a plea bargain, after years of effort to secure his release. Let's hope the man is let be to recover something of his life, and all best wishes to him and his courageous father, Terry.

Some reminders of the unstoppable force of the human spirit might be a fitting last post for 2007. This Week in Peace History, published by Carl Bunin and edited by Al Frank, is an interesting and valuable compendium to which you can sign up to receive by email. It is designed to remind us that our agency counts, and to appreciate that we are indeed "part of a rich history advocating peace and social justice."
On this Day in Peace History – 31st December and 1st January (selection–click on graphic below to visit site)
December 31, 1915

The U.S. branch of the International Fellowship of Reconciliation (FOR) was founded.
FOR's Mission Statement:
"The Fellowship of Reconciliation seeks to replace violence, war, racism and economic injustice with nonviolence, peace and justice.
We are an interfaith organization committed to active nonviolence as a transforming way of life
and as a means of radical change. We educate, train, build coalitions, and engage in nonviolent and
compassionate actions locally, nationally, and globally."
December 31, 1970

The U.S. Congress repealed the Gulf of Tonkin resolution, which in 1964 authorized an increase in U.S. military involvement in Vietnam as a response to a reported attack on U.S. naval forces patrolling close to the North Vietnamese border. The reports of the attacks were later revealed to be fictitious.
read what really happened

January 1, 1983
44 women scaled a 12-foot fence at dawn, breaking into a cruise missile base at Greenham Common in Britain and danced on missile silos.
The lyrics to their song:

listen

January 1, 1831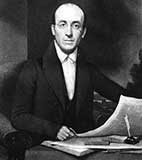 William Lloyd Garrison first published The Liberator (four hundred copies printed in the middle of the night using borrowed type), which became the leading abolitionist paper in the United States. He labeled slave-holding a crime and called for immediate abolition.
From the first issue: "I will be harsh as truth, and uncompromising as justice. On this subject, I do not wish to think, or speak, or write, with moderation."
"Assenting to the 'self-evident truth' maintained in the American Declaration of Independence, 'that all men are created equal, and endowed by their Creator with certain unalienable rights—among which are life, liberty, and the pursuit of happiness,' I shall strenuously contend for the immediate enfranchisement of our slave population."
January 1, 1987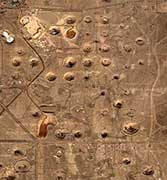 Ten anti-nuclear activists were arrested for trespassing at the Nevada Test Site, the culmination of a 54-day encampment at the main Test Site gate. The camp established momentum for what became a movement ultimately involving over 10,000 arrests in numerous Test Site protests over the following years in the campaign to achieve a freeze of all nuclear weapons testing. The Nevada site includes more than 14,000 sq. km. (nearly 6000 sq. miles, about the size of Connecticut) of uninhabited land where atmospheric, and later underground, testing had been conducted since the 1950.
January 1, 1989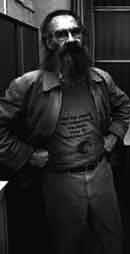 Kees Koning, a former army chaplain and priest, and Co van Melle, a medical doctor working with homeless people and illegal refugees, entered the Woensdrecht airbase (a second time), and began the "conversion" of NF-5B fighter airplanes by beating them with sledgehammers into ploughshares. The Dutch planned to sell the NF-5B to Turkey, for use against the Kurdish nationalists as part of a NATO-aid program which involved shipping 60 fighter planes to Turkey. Koning and van Melle were charged with trespass, sabotage and $350,000 damage; they were convicted, and both sentenced to a few months in jail.
read more

Kees Koning
January 1, 1991
Early in the morning Moana Cole, a Catholic Worker from New Zealand, Ciaron O'Reilly, a Catholic Worker from Australia, and Susan Frankel and Bill Streit, members of the Dorothy Day Catholic Worker community in Washington, D.C., calling themselves the Anzus (Australia, New Zealand and U.S.) Peace Force Plowshares, entered the Griffiss Air Force Base in Rome, New York.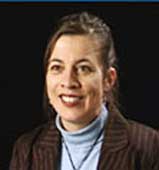 After cutting through several fences, Frankel and Streit entered a deadly force area, and hammered and poured blood on a KC-135 (a refueling plane for B-52s), and then hammered and poured blood on the engine of a nearby cruise missile-armed B-52 bomber. They presented their action statement to base security who encircled them moments later. January 1, 1994. Pictured: Moana Cole
January 1 1994
On the day the North American Free Trade Agreement (NAFTA) took effect, more than 2,000 Mayans in Mexico's Chiapas state marched into the state capital, San Cristóbal de las Casas, and five neighboring towns, and seized control. Calling themselves Zapatistas, or the Zapatista Army of National Liberation (EZLN), a "declaration of war" was issued. Employees at the Mexican stock exchange were evacuated by riot police. 25,000 Mexican soldiers arrived in Chiapas equipped with automatic weapons, tanks, helicopters and airplanes. 145 deaths were reported, mostly civilians. Massive arrests and subsequent torture of prisoners by the government took place.
***