Michael T. Klare on Energy Fascism
Or as Tom Engelhardt puts it, 'The Pentagon as an Energy-Protection Racket'. Also see Its Oil About Oil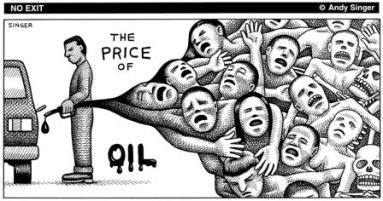 Is Energo-fascism in Your Future?
The Global Energy Race and Its Consequences (Part 1)
By Michael T. Klare | TomDispatch | 14 January
Excerpt – read full article here
Energo-fascism will, in time, affect nearly every person on the planet. Either we will be compelled to participate in or finance foreign wars to secure vital supplies of energy, such as the current conflict in Iraq; or we will be at the mercy of those who control the energy spigot, like the customers of the Russian energy juggernaut Gazprom in Ukraine, Belarus, and Georgia; or sooner or later we may find ourselves under constant state surveillance, lest we consume more than our allotted share of fuel or engage in illicit energy transactions. This is not simply some future dystopian nightmare, but a potentially all-encompassing reality whose basic features, largely unnoticed, are developing today. These include:
* The transformation of the U.S. military into a global oil protection service whose primary mission is to defend America's overseas sources of oil and natural gas, while patrolling the world's major pipelines and supply routes.

* The transformation of Russia into an energy superpower with control over Eurasia's largest supplies of oil and natural gas and the resolve to convert these assets into ever increasing political influence over neighboring states.

* A ruthless scramble among the great powers for the remaining oil, natural gas, and uranium reserves of Africa, Latin America, the Middle East, and Asia, accompanied by recurring military interventions, the constant installation and replacement of client regimes, systemic corruption and repression, and the continued impoverishment of the great majority of those who have the misfortune to inhabit such energy-rich regions.

* Increased state intrusion into, and surveillance of, public and private life as reliance on nuclear power grows, bringing with it an increased threat of sabotage, accident, and the diversion of fissionable materials into the hands of illicit nuclear proliferators.
Together, these and related phenomena constitute the basic characteristics of an emerging global Energo-fascism. Disparate as they may seem, they all share a common feature: increasing state involvement in the procurement, transportation, and allocation of energy supplies, accompanied by a greater inclination to employ force against those who resist the state's priorities in these areas. As in classical twentieth century fascism, the state will assume ever greater control over all aspects of public and private life in pursuit of what is said to be an essential national interest: the acquisition of sufficient energy to keep the economy functioning and public services (including the military) running.