Its oil about oil: recent press picks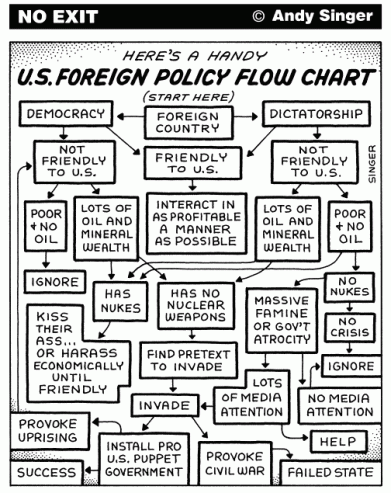 Its all about OIL, as Ray McGovern pithily notes:
"O for oil; I for Israel; and L for Logistics, meaning the military bases deemed by neoconservatives as necessary to protect both."
From Iraq to Iran to Pipeline-istan to Somalia and the Horn of Africa, the imperial misadventures of the hegemon most assuredly are motivated by the oil, profit and access to natural resources. It is also about the Likud Lobby and their neocolonial regional designs, of course, which is examined elsewhere but is not the subject of this particular post. (And in  combination: securing resources — for Israel). We certainly already know it has very little to do with the largely contrived war of "terror"; here's a round-up of some of the more recent article exhibits for reading.
These cartoons by Tohby Riddle and Andy Singer are also worth re-posting.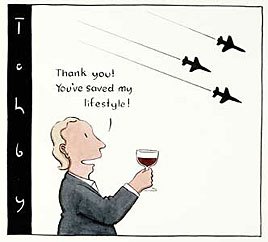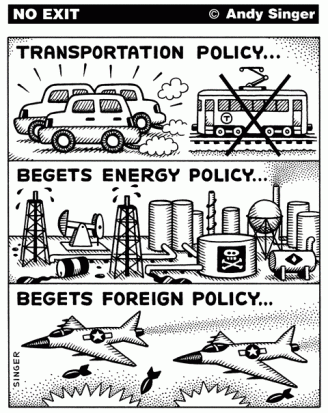 Claiming the Prize: War Escalation Aimed at Securing Iraqi Oil
By Chris Floyd | 8 January, 2007
I. The Twin Engines of Bush's War

The reason that George W. Bush insists that "victory" is achievable in Iraq is not because he is deluded or isolated or ignorant or detached from reality or ill-advised.

No, it's that his definition of "victory" is different from those bruited about in his own rhetoric and in the ever-earnest disquisitions of the chattering classes in print and on-line. For Bush, victory is indeed at hand. It could come at any moment now, could already have been achieved by the time you read this. And the driving force behind his planned "surge" of American troops is the need to preserve those fruits of victory that are now ripening in his hand.

At any time within the next few days, the Iraqi Council of Ministers is expected to approve a new "hydrocarbon law" essentially drawn up by the Bush Administration and its U.K. lackey, the Independent on Sunday reports.

The new bill will "radically redraw the Iraqi oil industry and throw open the doors to the third-largest oil reserves in the world," say the paper, whose reporters have seen a draft of the new law. "It would allow the first large-scale operation of foreign oil companies in the country since the industry was nationalized in 1972." If the government's parliamentary majority prevails, the law should take effect in March.

As the paper notes, the law will give Exxon, BP, Shell and other carbon cronies of the White House unprecedented sweetheart deals, allowing them to pump gargantuan profits from Iraq's nominally state-owned oilfields for decades to come.

This law has been in the works since the very beginning of the invasion — indeed, since months before the invasion, when the Bush Administration brought in Phillip Carroll, former CEO of both Shell and Fluor, the politically-wired oil servicing firm, to devise "contingency plans" for divvying up Iraq's oil after the attack.

Once the deed was done, Carroll was made head of the American "advisory committee" overseeing the oil industry of the conquered land, as Joshua Holland of Alternet.org has chronicled in two remarkable reports on the backroom maneuvering over Iraq's oil: Bush's Petro-Cartel Almost Has Iraq's Oil and The U.S. Takeover of Iraqi Oil. READ REST HERE
America's interests in Somalia: Four major U.S. oil companies are sitting on a prospective fortune in exclusive concessions
Global Research | 3 January 2006; first published December 2001 in raceandhistory.com
[Excerpt]: According to documents obtained by The Times, nearly two-thirds of Somalia was allocated to the American oil giants Conoco, Amoco, Chevron and Phillips in the final years before Somalia's pro-U.S. President Mohamed Siad Barre was overthrown and the nation plunged into chaos in January, 1991. Industry sources said the companies holding the rights to the most promising concessions are hoping that the Bush Administration's decision to send U.S. troops to safeguard aid shipments to Somalia will also help protect their multimillion-dollar investments there.

Officially, the Administration and the State Department insist that the U.S. military mission in Somalia is strictly humanitarian. Oil industry spokesmen dismissed as "absurd" and "nonsense" allegations by aid experts, veteran East Africa analysts and several prominent Somalis that President Bush, a former Texas oilman, was moved to act in Somalia, at least in part, by the U.S. corporate oil stake. READ REST HERE
Western companies may get 75% of Iraqi oil profits
MarketWatch | Jan 8, 2007
Iraq's massive oil reserves may be thrown open for large-scale exploitation by Western oil companies – which could end up grabbing up to 75% of the beleagured nation's oil profits – under a law seen coming before the Iraqi parliament within days, the Independent reported on its Web site Monday.

A draft of this controversial law, which the U.S. government has been helping to craft and has been seen by the Independent, would give oil giants such as BP PLC (BP), Royal Dutch Shell PLC (RDSA) and ExxonMobil Corp. (XOM) 30-year contracts to extract Iraqi crude and let these foreign oil companies undertake their first large-scale operations in the country since the industry was nationalized in 1972.

Oil industry executives and analysts say the law, which would allow Western companies to pocket up to three-quarters of profits in the early years, is the only way to get Iraq's oil industry back on its feet after years of sanctions, war and loss of expertise. However, opponents say Iraq, where oil accounts for 95% of the economy, is being forced to surrender an unacceptable degree of sovereignty, the Independent reported.

Supporters counter that the 75%-profit provision will last only until they have recouped their initial drilling costs. After that, they would collect about 20% of profits, according to industry sources in Iraq. This is still twice the industry average for such deals.

Iraq's Deputy Prime Minister, Barham Salih, who chairs the country's oil committee, is expected to unveil the legislation as early as Monday and the government hopes to have the law enacted by March, according to the report.
Race for riches is Africa's torment
by Daniel Whitaker | The Observer | November 12, 2006
Somalia and Darfur are the latest unhappy corners of Africa to erupt in violence. The dead will join more than five million others who have perished in wars in the past bloody decade. Surely, if it was any other continent, the world's efforts would be focused on ending the carnage. 'But that's how things are in Africa,' many will shrug, 'still the dark and savage continent.'This epidemic of war is as destructive as those of Aids and malaria. But the chief fuel to this flame is not an innate aggression by Africans, as many commentators suggest. Tragically, in most cases, it is the blessings bestowed by nature on the continent and the strong desire of economically powerful outsiders to get them. Ethnic and religious rivalries are real, but too often serve as a smokescreen.

Take the demographic mosaic of Sudan, where there were tensions between groups seen as more Arab and more African. But what has most made Sudan a violent place has been the discovery of oil. The Khartoum government has already lost control of the south, where most of its reserves lie. The plains of Darfur have been only partly surveyed, but look promising.The China National Petroleum Corporation bought the rights to Block 6, the largest oil and gas concession field still controlled by Khartoum, which lies mostly in Darfur. Production costs are believed to be a bargain 22 cents (less than 12p) a barrel, and with Rolls-Royce Marine reportedly supplying tens of millions of dollars worth of pumping equipment this summer Block 6 production is alleged to have risen from 10,000 to 40,000 barrels a day. Earlier this month China's President Hu Jintao spoke forcefully in support of Sudan's right to sort out Darfur as it saw fit, while his oil-thirsty country is now Sudan's main military supplier. The signals from China's recent summit with African leaders are that the Chinese will only push harder in future to gain their share of the spoils.

This echoes the first Sudanese civil war. 'Oil has brought death,' said Malony Kolang, a chief of the southern Nuer people in 2000. 'When the pumping began, the war began. Antonov aircraft and helicopter gunships began attacking the villages… Everything around the oilfields has been destroyed.'

To the east lies Somalia, where the descent into war is portrayed as historical enmity between Somalis and their Ethiopian neighbours. Yet Ethiopia's Christian regime runs a big risk in its border incursions, given that a large portion of its own people are Muslim and of Somali descent. The real reason is likely to be that the Ogaden region, which borders Somalia, sits on a not yet exploited gas field. The Malaysian oil giant Petronas has bought three concession blocks there. Addis Ababa fears a resurgent Somalia will seek to annex Ogaden. The likely coming war there is in part gas-powered.

The same story is repeated all over Africa. Congo's diamonds and cobalt brought a civil conflict bringing in six neighbouring countries, though again linguistic and ethnic differences were painted as the war's underlying cause. Angola's oil and diamonds fuelled its own civil conflict, this time portrayed as an ideological dispute between left and right. In Sierra Leone and Liberia it was diamonds alone that played such a role. In Nigeria, again, oil. By contrast, Africa's countries of quiet stability – such as Senegal, Tanzania, Mozambique or Ghana – are those with little to interest the prospectors.

Those preferring the explanation of African savagery point to the slaughter of Rwanda. But there, too, one of the most under-reported tensions behind the conflict was the shortage of valuable grasslands.

Africa faces a wide range of challenges. It is tragic that the scramble for its wealth is only adding to them.

· Daniel Whitaker is an economist who has worked in Africa for five years
What's at stake in the Horn of Africa
By Monica Moorehead | Workers.org | Jan 7, 2007
What has been the concrete involvement of the U.S. in this war between Ethiopia and Somalia, two of the poorest countries in the world?

According to William Church, director of the Great Lakes Centre for Strategic Studies, the CIA has been funneling between $100,000 and $150,000 monthly to the Alliance for Restoration of Peace and Counterterrorism, which includes Somali officials recognized by the West, "warlords" and business people. Military equipment has also been donated to the Somali military by Select Armor, a private company based in Virginia.

The Pentagon also sent $19 million worth of weapons and loans to Ethiopia in 2005 and is scheduled to provide another $10 million worth of weapons this year. (Sudan Tribune) In countries as poor as Somalia and Ethiopia, this is a lot of money.

Just as Bush used the phony excuse of "fighting terrorism" to invade and occupy Iraq, he is using the same excuse to justify Washington's support for the invasion of Somalia by Ethiopia. And just as controlling another country's oil reserves was the real reason for invading Iraq, the same holds true for this recent invasion of the Horn of Africa.

The Horn has great strategic value, since naval bases there can control the traffic of tankers and other ships through the Red Sea and Gulf of Aden. In addition, however, the U.S. is well aware that Africa has the world's third-largest oil reserves, after the Middle East and Latin America.

Industry sources say these reserves amount to over 95 billion barrels, or about 8 percent of the world's total. Nigeria is the largest producer of oil on the African continent. It remains one of the poorest countries because Shell, ExxonMobil and ChevronTexaco, not the Nigerian people, control the oil production, wealth and profits there.

Much of Africa's overall oil reserves are untapped and are strategically located in the Horn of Africa, which is on the Red Sea and is a direct route to the oil-rich Middle East.

The Pentagon established a Central Command in Africa in 2002 and stationed naval warships off the Horn of Africa. The excuse was that they were monitoring the movements of al-Qaeda members based in Afghanistan.

Just last month, the Pentagon sent a proposal to the White House requesting that an African Command be set up to oversee all U.S. military maneuvers throughout the African region. Bush is expected to approve this request within the next few months.

Can there be any doubt that both these commands will carry out the same task of working on behalf of Big Oil transnational corporations in an attempt to oversee the drilling for oil that is expected to occur in the Red Sea?

The U.S. has expressed concern that representatives of the Chinese government recently visited Kenya, Sudan and Ethiopia to discuss oil and trade agreements with those governments. China is offering developing countries better terms than those established by the imperialist powers. This is another reason why the U.S. wants to deepen its economic influence in Africa through military hegemony.
The Plan for Economic Strangulation of Iran
By Dr. Abbas Bakhtiar | ICH | 12 Jan 2006
[Excerpt] "According to the Oil and Gas Journal, as of January 1, 2006, Iran held 132.5 billion barrels of proven oil reserves. This figure, which includes recent discoveries in the Kushk and Hosseineih fields of Khuzestan province, means Iran holds roughly 10 percent of the world's total proven reserves. …"

There is no doubt that Iranian economy is driven by oil. Oil revenues constitute over 70 percent of its total export earnings and 50 percent of its GDP.

… Iran currently produces about 4 million barrels of oil per day, of which only 2.5 million barrels are exported with the remaining [3] According to this and other reports Iran needs to invest about $2.5 billion a year just to stand still. Iran is not running out of oil, but needs money to maintain old fields and bring in the new fields online.

… The current US strategy is to starve the Iranian oil and gas industries of new investments, thereby reducing the Iranian government's revenues which are hoped will in turn reduce Iran's ability to maintain not only its armed forces, but also the government's social obligations to its people (subsidies, salaries, etc.). It is hoped that this combined with international isolation and (with the help of Saudi Arabia) a reduction in oil prices (OPEC crude basket price: $51.25 per barrel on 8 Jan 2007) will not only cripple the Iranian economy, but also (possibly) lead to a regime change. All attacks on the economy was being presented under the guise of stopping Iran from developing WMDs, and in particular nuclear weapons.

The attack on the Iranian economy started in earnest in early 2006. United States began putting considerable pressure on international banks and financial institutions to cut their ties with Iran. Countries also were pressured to reduce their economic contact with Iran. For example beside the usual behind the scene warnings and threats, in September 2006, the US treasury secretary M. Paulson Jr, used his first meeting of world finance chiefs as a venue for the Bush tadministration's mission to isolate Iran.
See also:
U.S. puts squeeze on Iran's oil fields | LA Times (7 Jan, 2007)
Chavez and Iran unveil anti-US fund| Al Jazeera (Jan 14, 2007)