Caught out: Stealing Palestinian images for Israeli causes (updated)
This extraordinary appropriation of Palestinian images by the Israeli Meir Panim organization, picked up by Khalid Amayreh, shows a sinking to new lows.  Amid the Haiti hasbara, we now see that even Palestinian child victims of Israeli policies are to be cynically exploited. Are poor Israeli kids' faces not sufficiently heart-rending or do they display insufficient trauma or suffering?
UPDATE: We have written to Meir Panim about this travesty, suggesting that they withdraw the advertisement and issue a public apology to the family of this little girl for violating her dignity. Better still, perhaps they would consider enlarging their remit to include Palestinian children from the OPT and particularly from Gaza who continue to suffer the debilitating effects of the inhumane Israeli siege and military occupation.
UPDATE II: Meir Panim have replaced the image in their ad campaign (see below) but a public apology to the family of this little girl remains to be seen. They have not responded to date, and given the absence of integrity thus far, we're not holding our breath.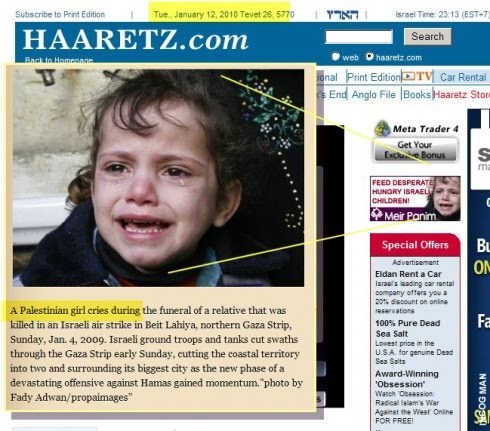 Khalid Amayreh notes:
The Israeli electronic and print media has been using photos of Palestinian orphans whose parents and relatives have been murdered by the Israeli army in advertisements designed to raise money for "poor and Jewish children." One photo of a crying, bedraggled and distraught-looking girl is used widely to appeal to potential donors to donate money in order to feed hungry Jewish children.

What is strange about this is that the very same picture happens to be of a Palestinian child whose father was killed in Beit Lahiya in the northern Gaza Strip during the genocidal Israeli onslaught last year.
Here's the little girl in a Reuters photograph published in the UK Telegraph and in the Independent: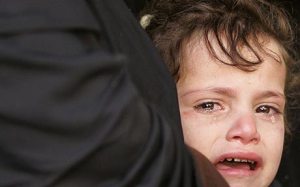 Here is Meir Panim's "replacement child":


UPDATE III New Statesman blogger Mehdi Hasan does well to take up this issue and to ask why the msm haven't done so; a reader and blogger has suggested in the comments here that it was the little girl's brother that was killed rather than her father as stated by Amayreh.