God is back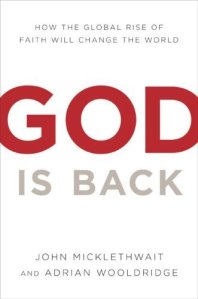 Nietzsche once famously proclaimed that God was dead; with the advent of modernity, humanity has been the most anthropocentric it has ever been. Historian, editor-in-chief of the Economist and co-author with Adrian Wooldridge of God Is Back: How the Global Rise of Faith Is Changing The World, John Micklethwait argues that modernity has been inaccurately equated with secularism, that religion more closely aligns with pluralism, which includes the propensity toward theotropism. Some interesting facts can be gleaned from Micklethwait regardless of whether one agrees with his views: China is set to become the most populous Christian country with 100 million Christians — and the most populous Muslim country for example, and five of the ten biggest mega-churches in the world are in Korea.
Micklethwait talks about the resurgence of faith in the 21st century, of religious entrepreneuralism and the state of faith in the UK and US. He argues that much of the world outside western Europe is in many respects following the US example of faith resurgence.
In a recent interview on Australian public broadcaster ABC, Micklethwait averred that "there's a lot of sociological reasons why people would want to be religious. There's a wealth of evidence that religious people are healthier, wealthier and wiser … What is interesting about the science at the moment is one group of scientists is following Richard Dawkins and coming up with ever more elaborate reasons why God shouldn't exist and all the ontological reasons about how the universe started. Another group of social scientists are actually trying to examine why religion does so well doing weird experiments. They put nuns and Buddhist meditators into MRI machines … looking at their brains, whilst they're praying, to work out the effect on their general conditions. It's a phenomenon there, and once you look around the world, … it's a quite reasonable question to ask: "Why does it do so well?"
A number of videos are included here, including BookTalk and C-Span. See also reviews of the book by John Gray, Christopher Howse, Hanna Rosin, Caspar Melville and Michiko Kakutani.
BookTalk with Mark D'arcy (Part One: 6:26)

BookTalk with Mark D'arcy (Part Two: 6:47)

C-Span (57 minutes)
Vodpod videos no longer available.
BBC Radio 4 interview with Andrew Marr (10 minutes) (mp3)