Caoimhe Butterly and Free Gaza Updates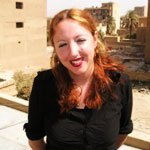 The Free Gaza Movement are poised to return this Northern Hemispherean summer with humanitarian cargo and medical relief, and this time they are promising, with help from supporters, not one boat or two, but a veritable people's flotilla of regular trips to break the blockade. This comes after the recent sinking in a storm of their flagship the Dignity, which had for six months withstood active intimidation from the zionist entity that included a deliberate sinking attempt in December.
Caoimhe Butterly (Quiva) was in Gaza from November 2008 with the Free Gaza Movement and lived through the (ongoing) siege for two months. She is currently on a speaking tour and spoke recently in Sheffield, where she ably elaborates upon the situation and her experiences. (This is followed by Free Gaza's latest video. Also take a gander at artists group No More Ignorance who have produced a downloadable 70 pp Gaza Guide).
Latest Free Gaza video (thanks H)