Lieberman: Wishing for World War III?
Thanks to Brenda Heard, founder of London-based Friends of Lebanon, for the following geopolitical news editorial.

We have already become accustomed to the brazen statements of Israeli Foreign Minister Avigdor Lieberman. And it is certainly no surprise that Israel considers the US to be firmly in its political pocket.  So it is but a mild irritation to read Haaretz reporting that Lieberman, confident that "the Obama administration will put forth new peace initiatives only if Israel wants it to," has stated publicly "Believe me, America accepts all our decisions." (Lieberman: U.S. to accept any Israeli policy decision)
What is most interesting about Lieberman's first comprehensive interview on foreign policy since taking office is his view of Russia.  Lieberman, Haaretz points out, granted his first major interview not to an Israeli newspaper, but to Alexander Rosensaft, the Israel correspondent of one of the oldest Russian dailies, Moskovskiy Komosolets. Courting favour with the Slavic world power?
Russian immigrants are a dominant part of Israeli society.  And Russia, according to the Jewish Virtual Library, is ranked number six in "Countries with Largest Jewish Populations."* Countries ranked 2—5 (US, France, Canada, UK) are already reliable friends of Israel.  On the other hand, Russia has in recent years demonstrated an independent character in its foreign relations.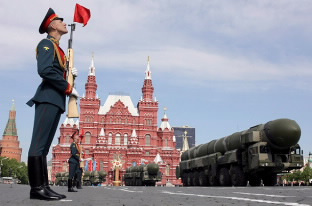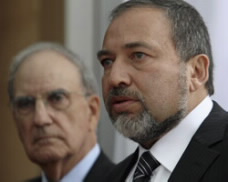 Lieberman is looking for another ally.  In his interview, he stated "Russia has a special influence in the Muslim world, and I consider it a strategic partner that should play a key role in the Middle East.  I have argued for some time that Israel has insufficient appreciation for the 'Kremlin factor'; I intend to mend this gap."
Another openly brazen admission to manipulating others for the sake of Israel.  When coupled with another assertion made by Lieberman, though, we begin to see what he means by "key role."  Lieberman proclaimed that Afghanistan and Pakistan are now considered jointly as the greatest strategic threat to Israel.  Iran has been downgraded to second place threat, and Iraq falls in third place.  Afghanistan and Pakistan "form a contiguous area of radicalism ruled in the spirit of Bin Laden," says Lieberman, and "are a threat not only to Israel, but to the global order as a whole."
Now take a good look at the regional map below.  And think of President Obama's recently announced Afghanistan-Pakistan (AFPAK) Strategy (27/03/09)—two countries, one challenge, Al Qaida, more American troops, bringing Russia on board—and Lieberman's cheerful offer of Israel's role of bringing the US and Russia closer.  With the US already having rendered Iraq ineffectual and vulnerable, the envisaged key role of Russia—big, big Russia—would be to assist in crushing Afghanistan and Pakistan as well . . . in order to maintain "global order," of course.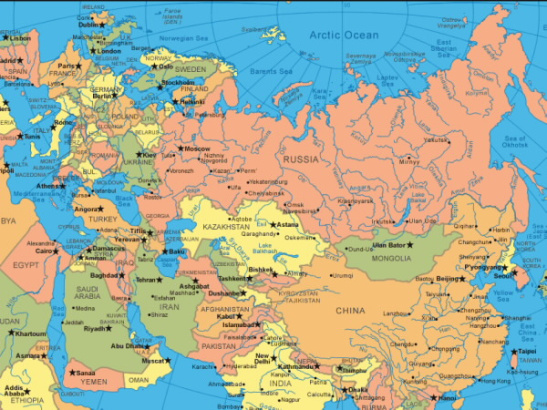 The Iranian borders would then offer not obstacles, but exploitables. Iraqi, Afghani and Pakistani borders would be under the watchful eye of US/Israel and their would-be partner-Russia.  That leaves just Turkey and Turkmenistan.  Despite a few public tiffs, Turkey and Israel maintain a working relationship and military cooperation.  And as troubled Turkmenistan is of little threat to anyone but itself, this new state of political power would enable Israel to more realistically envisage overwhelming its formerly declared arch nemesis.  Once Israel and its partners were able to break Iran, they could, they presume, cut off the lifeblood to Hezbollah in Lebanon, thus killing two birds with one proverbial stone.
Is it over-reaching to imagine such map-sweeping military operations? Consider the size of Hamas.  Look at the map again just to keep perspective fresh—right, Hamas is not even on the map.  What was Lieberman's proposal (13/01/09) for quieting this thorn in his side?  "We must continue to fight Hamas just like the United States did with the Japanese in World War II.  Then, too, the occupation of the country was unnecessary."
What, then, was the secret to US success?  After having already killed over a million Japanese 1941—1945, the US was able to set aside its plans for a ground invasion and occupation of Japan because the Japanese surrendered.  They relented because the US carried out atomic bomb attacks on the cities of Hiroshima (killing 140,000 Japanese) and three days later on Nagasaki (killing 80,000 more Japanese).  Quicker and cheaper than an occupation, says the businessman.  Lieberman apparently appreciates the logic.  A chilling thought, considering that for all its finger-pointing accusations, Israel is the Middle Eastern power that has maintained nuclear weapons and has consistently demonstrated its willingness to use "disproportionate force."
But Russia is no one's fool.  With a long, difficult history stretching back nearly 500 years, the Russians have proven their ability to endure.  They haven't succeeded by catering to someone else's interests.  By way of example, Russia may have recently purchased surveillance drones from Israel, but it is also still considering selling a strategic air-defence system to Iran, despite Israel's clear objections to the deal. Said one Israeli official on the Russian rejection of conditions, "the Russians don't make promises of this kind."  The Russians will, however, stand their ground.
Even as the UN Durban Review Conference on Racism drew criticism from some (primarily from the Israeli camp), Russia accepted the position of vice-chair of the Preparatory Committee working on the declaration and the conference's agenda. Russia maintained its high profile participation, regardless of the boycotting actions taken by others.  As Andrei Podoplekin, political scientist at the leading Russian school Pomor State University, said, "This is a way for Russia to show that it can be an independent player. By agreeing to participate and serve as a moderator at an event boycotted by others, it proved that it could act independently, most importantly from the Western states."
Where does Lebanon fit into all this?  As always, there is a political and military tug-of-war.  Four months ago, for instance, Moscow gave 10 MiG-29 fighter jets to Lebanon, free of charge, as assistance in building the Lebanon Army.  The New York Times was quick to characterise the gesture as a "slap to the United States."  Not to be outdone then, the US has announced (14/04/09) that it "will provide the Lebanese Armed Forces (LAF) with twelve Raven unmanned aircraft in the coming months."  This comes with a training course, "funded by the U.S. Department of Defense (DOD), [and] is one part of the comprehensive, robust U.S. military assistance program to Lebanon.
It must be remembered, though, that the Obama administration has confirmed that the world financial crisis would not jeopardise its promise of $30 billion in military aid alone to Israel over the next 10 years.  In 2007 the US had announced that it would continue military aid to Egypt at $13 billion from 2009 to 2018, and would increase military aid to Israel by 25% — $ 30 billion from 2009 to 2018.  US Undersecretary of State for Political Affairs Nicholas Burns, who signed the memorandum of understanding governing the aid package, stated the aid would
"allow Israel to plan its defense expenditures in a way that's rational, in a way that takes into account its own appreciation of its situation in this region.  So we look at this region and understand that a secure and strong Israel is in the interest of the US."
As the Jerusalem Post paraphrases, this means that "there were no strings attached to the aid – no special annexes – and that it was not dependent on Israeli policy. Burns underlined that the aid was coming at a time when Iran 'is resurgent,' and was both seeking nuclear weapons and expanding its conventional power in the region. He said Iran and Syria were funding and arming terrorist organizations fomenting violence in every part of the Middle East, be it Hamas, Hizbullah or Shi'ite groups in Iraq."  Perhaps Burns, back in August 2007, didn't think Afghanistan would hold out as long as it has, or that Pakistan would be a nice addition to the target list.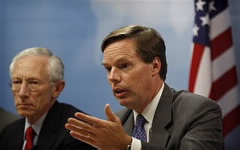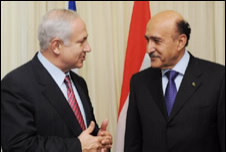 On 22 April 2009, Foreign Minister Lieberman cemented another "strategic partner": Egypt. Despite tensions due to Lieberman's past offensive statements regarding Egypt, diplomatic relations seem to be improving between the formerly warring countries.  Egyptian Intelligence Chief Omar Suleiman met with PM Netanyahu, President Peres and FM Lieberman.  According to Israeli media, Lieberman "repeatedly stressed his appreciation of Egypt as a strategic partner."
Meanwhile, relations between Egypt—Palestine and Egypt—Lebanon have been strained.  Perhaps that is what a "strategic partner" is for: reinforcement of Israel's game plan. Perhaps that is what Lieberman has in mind as he courts such a partnership with Russia.  Stack up the friends on one side, the enemies on the other.  But in the end, you don't get a gang war.  When you add billions of dollars worth of weaponry, you get world war.
The irony is, though, that amid all the massive global players in this drama, the sticking point for Israel is that it has never been able to defeat Lebanon.  Israel has tried and tried to pound Lebanon into submission and has failed, no matter how many strategic partners it stacks up.  Look at the map again.  You need a magnifying glass to see the two of them.  Yet the world seems intent on setting their agendas by what transpires there. A bit ridiculous, really.
Russia is not apt to fall for Lieberman's lure.  Again, Russia is no one's fool.  It has been less than a year since Russia resolutely quashed an aggression by Georgia—backed by US-Israel—to overtake South Ossetia.  Israel may now be anxious to have Russia as a partner; however, it is highly unlikely that Russia will find itself needing Israel as a partner.  And Russia does stand its ground.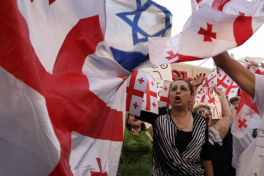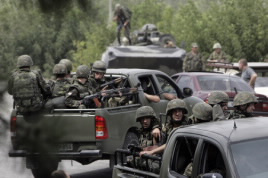 Like Russia, Lebanon, for all its faults, knows how to stand its ground as well.  Every Lebanese child knows the politics of being Lebanese.  Every adult has lived through the wars and the global chicanery.  Who else but Lebanon could manage to defeat Israel and then still rake in $1 billion total post-2006 conflict assistance and $410 million post-2006 in military aid from America, Israel's favourite ally?  The Lebanese might just be more clever than Lieberman is counting on.
Lebanon will not be intimidated.  Syria will not be schmoozed.  Russia cannot be reduced to what Lieberman has dubbed the "Kremlin Factor," as though he fancies himself a Jason Bourne.  Lieberman stated that he intends to mend the gap between the Knesset and the Kremlin.  But a gap is mended at both ends.  In half a century, Russia has weathered wars far worse than those plotted by Lieberman.  If Russia decides to adjust its alliances, it will do so not at the behest of tiny Tel Aviv, but when and if it chooses, on its own Russian terms.
*please note that it is Israel's own insistence on distinguishing people by their faith, Jewish or otherwise, that necessitates the topic.  FOL prefers to view people as individuals—not as representatives of a particular religion.