Suspend the US-Israel Trade Agreement
Espionage and intellectual property theft, including of US weapons systems, has resulted from an abuse of preferential Israeli access to the US market, this legal filing by the Institute for Research: Middle East Research (IRmep) details, calling for the immediate suspension of access.

IRmep Center for Policy and Law Enforcement Filing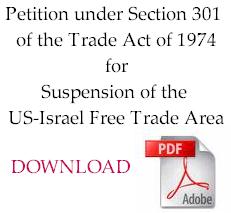 A 92 page legal filing urges the United States Trade Representative (USTR) to immediately suspend preferential Israeli access to the US market.
In 1983 the Israeli Prime Minister and American Israel Public Affairs Committee (American Israel Public Affairs Committee) lobbied the Reagan administration for preferential Israeli access to the US market.  In spite of overwhelming opposition from US agricultural, industrial and citizens groups over Israel's weak protection for intellectual property rights, the US-Israel Free Trade Area was signed into law in 1985.
Intellectual property violations tainted negotiations of the agreement in 1984 when the FBI discovered that AIPAC obtained a copy of the secret report "Probable Economic Effect of Providing Duty Free Treatment for U.S. Imports from Israel, Investigation No. 332-180."
The still classified 300 page report was compiled from business confidential market share, cost, and other closely held information solicited by the International Trade Commission for USTR use in negotiations.
Throughout the 1980s and 1990s US intelligence agencies uncovered Israeli networks illicitly acquiring and transferring intellectual property on US weapons systems.  Purloined intellectual property for missiles, imaging technology and other weapons was subsequently incorporated into Israeli systems.   Some Israeli systems were then exported to rogue regimes and rivals American manufacturers avoided under US arms export prohibitions.
For each of the past three years, the Israeli Ministry of Health and pharmaceutical manufacturers have been placed on USTR watch lists for practices that cost US manufacturers billions of dollars.  But calls for enforcement of trade rules have generated no results.  Worse, proceeds from ballooning Israeli cut diamond exports to the US have been used to finance illegal West Bank settlements in contravention of Obama administration policy.
Full Filing (PDF, 5.8 MB)   Filing with no Appendix (164 KB) Summary Filing (29 KB)
As well as the embedded .pdf links above, see also IRmep's documents, as well as the Israel Lobby Archive pages.