Shlomo Sand speaks on The Invention Of The Jewish People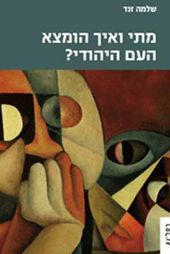 You may recall historian Shlomo Sand re-ignited a debate last year (The Invention of the Diaspora: Shattering a National Mythology?) upon the release of his book When And How The Jewish People Was Invented (translation from Hebrew Matai ve'ech humtza ha'am hayehudi?).  The book is now forthcoming in English with the title The Invention of the Jewish People.
Like Arthur Koestler's work before him, the book confronts the myth that Jews are a discernibly national group that can claim a biological-genealogical connection to the biblical Jews of 2000 years ago. This is significant because it challenges the claims in both Judaism and zionism that are predicated upon the notion of exile and return.
If Jews now living in Israel are not direct descendants of the ancient people who inhabited the Kingdom of Judah, who are? According to the research, the present-day Palestinians, the bona-fide Semites (with, one presumes, Oriental Jews), are very likely the descendants of the ancient Semitic people in Judea/ Canaan.
From KPFA's Voices of the Middle East and North Africa, the very genial Khalil Bendib presents this conversation with Austrian-born, self-described 'post-zionist' Sand. The interviews runs for around 25 minutes and is one of few available in English.
See also Arthur Koestler's The Thirteenth Tribe: The Khazar Empire and its Heritage (1976), available online in its entirety, and The Controversy of Zion by Douglas Reed, also available online in its entirety.
Recent related reviews: