Meet the Unpeople
"Until lions have their historians, tales of the hunt shall always glorify the hunter."
— African Proverb
"And though tyranny, because it needs no consent, may successfully rule over foreign peoples, it can stay in power only if it destroys first of all the national institutions of its own people."
— Hannah Arendt, The Origins Of Totalitarianism
Why are some lives made to count more than others? This is and has always been the essence of racism, colonialism and Empire. From slaves once being counted as "three fifths of a person" in colonial America to the existence of slavery in human trafficking today, this process of racism, whether criminalised or institutionalised or internalised, can be seen in how people's worth are regarded according to their race, sex, creed, ethnicity or other forms of identity.
It can be seen today in the forcible removal and the denial of return of inhabitants from their homes in Diego Garcia by the British government, it can be seen in the cultivation of racist entitlement and sense of superiority over Palestinians by Zionists in Israel, it can be seen in the callous disregard of peoples of the Middle East by the Likudnik drenched imperial designs of the neocons in Washington as in Tel Aviv.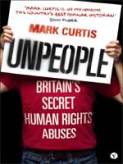 Mark Curtis uses the term 'Unpeople' to describe those whose lives are seen as expendable in the pursuit of Empire's economic and political goals, focusing on how Britain has been complicit in deaths around the world of millions of people. He has calculated that Britain bears significant responsibility for around 10 million deaths just since 1945 (in a period when its empire was on the wane), including that of Nigerians, Indonesians, Arabs, Ugandans, Chileans, Vietnamese and many others, and, in contemporary focus, Iranian and Iraqi lives.
Moreover, through its own intervention, and its support of key allies such as the United States and various repressive regimes, Britain has been, and continues to be, a systematic and serious abuser of human rights. While this is not new, the policies responsible are often still unknown or under-reported to the public and remain under-researched by journalists and academics. These sins of Empire constitute lies of omission as well as commission. How many of us know the case of Diego Garcia in the the Chagos Archipelago, forcibly depopulated so that the US military could use it as a military base and then to operate the Global Positioning System (GPS)?
Does this mean that human life is not also disregarded elsewhere? No. One sees the treatment of untouchables in still caste-based India, or the invisibility of women in Saudi Arabia, or the treatment of the Australian Aborigines in Australia. The difference is one of scale and rhetoric. The brokers of imperial racism cloak this barbarism in the language of "liberating"peoples and "bringing democracy"; the west holds itself up to be the pinnacle of progress and civilisation even as the ongoing project of Empire attempts to impose a vile vision on what are implicitly regarded as subject peoples, on an unprecedented scale across the globe. The difference is that any and all abuses should be equally scrutinised and regarded as such, to enable us to move forward.
The treatment of women, immigrants and guest workers, returned servicemen and women, the ill or mentally or physically incapacitated — often the weakest and most vulnerable in our society and international community — usually serves as an accurate barometer of how truly progressive and civilised we are.
History has not come to an end with the false triumph of liberal democracy as even Francis Fukuyama now concedes after he first posited this notion in 1989. (And "liberal democracy" applied only insofar as it pertained to characterising liberal democratic institutions domestically, that is, it hardly extended to foreign policy).
The ideals of liberty, equality, self-determination and freedom still glow in hearts across the globe. "I am not worth less, I am not a subject of Empire, I am not a terrorist, I am not expendable." I am a human being with dignity and in possession of inalienable rights, and human beings are inherently equal. It might be useful, its always a good time to recall these principles as we have collectively enshrined them in the Universal Declaration of Human Rights.
Selected press picks, followed by quotes of the zio-racist variety:
* Soraya Sepahpour-Ulrich, Partner in Crime, ICH (2 April, 2007)

* Eric Margolis, West Has Bloodied Hands, Toronto Sun (19 Dec 2004)

* Priyamvada Gopal, It is contradictory to condemn slavery and yet celebrate the empire, Guardian (2 April, 2007).
Zionist Quotes
These will not be new to some people, but I reproduce them here as these are apposite to the topic. Sources on the web are numerous and these quotes well documented, see here, here, here, here and here
"There is no such thing as a Palestinian people… It is not as if we came and threw them out and took their country. They didn't exist."
— Golda Meir Statement to The Sunday Times, 15 June, 1969.

"We shall try to spirit the penniless population across the border by procuring employment for it in the transit countries,while denying it any employment in our own country …. expropriation and the removal of the poor must be carried out discreetly and circumspectly."
— Theodore Herzl (from Rafael Patai, Ed. The Complete Diaries of Theodore Herzl, Vol I)

"… it is the duty of the [Israeli] leadership to explain to the public a number of truths. One truth is that there is no Zionism, no settlement, and no Jewish state without evacuating Arabs, and without expropriating lands and their fencing off."
— Yesha'ayahuBen-Porat, (Yedi'ot Aharonot 07/14/1972) responding to public controversy regarding the Israeli evictions of Palestinians in Rafah, in 1972. (Cited in Nur Masalha's "A Land Without APeople" 1997, p.98)

"One million Arabs are not worth a Jewish fingernail."
–Rabbi Ya'acov Perin in his eulogy at the funeral of mass murderer Dr. Baruch Goldstein.

"Every time we do something you tell me America will do this and will do that . . . I want to tell you something very clear: Don't worry about American pressure on Israel. We, the Jewish people, control America, and the Americans know it."
— Israeli Prime Minister, Ariel Sharon, October 3, 2001, to Shimon Peres, as reported on Kol Yisrael radio.

"We declare openly that the Arabs have no right to settle on even one centimeter of Eretz Israel…Force is all they do or ever will understand. We shall use the ultimate force until the Palestinians come crawling to us on all fours."
— Rafael Eitan, chief of staff of the Israel Defense Forces, quoted in Yediot Ahronot, April 13, 1983, and The New York Times, April 14, 1983.

"[The Palestinians] are beasts walking on two legs."
— Israeli Prime Minister Menachem Begin, speech to the Knesset, quoted in Amnon Kapeliouk, "Begin and the 'Beasts,"' New Statesman, June 25,1982.

"We must do everything to ensure they [the Palestinian refugees] never do return."
— David Ben-Gurion, in his diary, July 18, 1948, quoted in Michael Bar Zohar's "Ben-Gurion: the Armed Prophet," Prentice-Hall, 1967, p. 157.

"We must use terror, assassination, intimidation, land confiscation, and the cutting of all social services to rid the Galilee of its Arab population."
— Israel Koenig, "The Koenig Memorandum."

The fact of the matter is that three times as many Palestinians have been killed, and a relatively small number of them were really militants. Most were civilians. Some hundreds of children."
— Zbigniew Brzezinski

"We must expel Arabs and take their places."
— David Ben Gurion, 1937, Ben Gurion and the Palestine Arabs, Oxford University Press, 1985.

"A voluntary reconciliation with the Arabs is out of the question either now or in the future. If you wish to colonize a land in which people are already living, you must provide a garrison for the land, or find some rich man or benefactor who will provide a garrison on your behalf. Or else-or else, give up your colonization, for without an armed force which will render physically impossible any attempt to destroy or prevent this colonization, colonization is impossible, not difficult, not dangerous, but IMPOSSIBLE!… Zionism is a colonization adventure and therefore it stands or falls by the question of armed force. It is important… to speak Hebrew, but, unfortunately, it is even more important to be able to shoot – or else I am through with playing at colonizing."
— Vladimir Jabotinsky, founder of Revisionist Zionism (precursor of Likud), The Iron Wall, 1923.