Dr H. In The Holy Land V: Qalandia Check-Point

Qalandia check point is the main check point into Jerusalem from Ramallah. It is worse than I remember it to be. A humiliating example of every day life for the Palestinians living in the Occupied Territories, in fact I think that animals are often treated better than these people. I had met a guy in Ramallah, who was traveling back to Jerusalem and for this I was grateful. This meant that I did not have to go through the check point alone.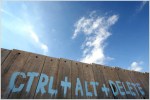 The road leading from Ramallah to Qalandia has the grey cement wall on your right hand side, decorated with graffiti: "CTRL+ALT+DEL, illegal wall, this wall must fall" and pictures of sorts. The ground is littered with rubbish and alongside lie large huge stone boulders – which I suspect were used previously to create land blocks (something that the Israelis often do when they want to close a road).
As we reached the checkpoint, my companion said, "I have to get off the bus now, because I am Palestinian, you can stay on the bus". If you are foreign, you can sit on the bus and drive through the check point. If you are Palestinian, you have to get off the bus walk on foot for approximately 200 m to the check point and then wait in line until you reach the other side. I looked at him.. "No, I will come with you", I said, despite being terrified of this checkpoint. I had an awful experience last time and was filled with dread.
As you walk through the parking lot to the check point, from the outside it looks like a huge terminal, there's an old man outside selling sweets and chocolates from his makeshift stall.
A sign towers above his head that reads: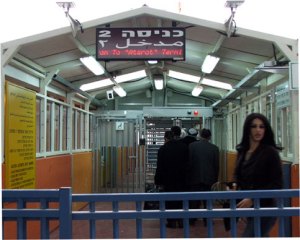 Welcome to "Atarot" Check Point
– you are now entering a military area. To make your transit easy and to avoid unnecessary delay first read these instructions and then obey them
– do not enter carrying articles made of metal or objects declared forbidden by the authority.
– prepare your documents for inspection.
– your documents must be presented at each inspection point.
– coats must be removed.
– persons refusing to follow inspections or signposted instruction will not be permitted to complete their transit.
– we wish you a safe and pleasant transit.
– May you go in peace and return in peace.
I take my camera out of my bag, scared as I photograph the sign, although I wonder why, because there is no sign that states no photos, and secondly if the IOF are doing nothing wrong then surely they have nothing to hide. To me "transit" means when you are passing through an airport for a few hours – I wonder why these Palestinians have to transit in effect to cross the street.
As you walk behind the wall and the man selling his confectionery, there are benches with people sitting and waiting, watching. Others are queuing in lines. The terminal is made of metal pillars supporting a corrugated iron roof. There are approximately 5 to 6 queues which are available but only 3 are being used, the others have been closed.
Upon entering the line, you are enclosed in a cage, metal bars that are approximately 2 metres high line either side of you. The space is so small that people can not stand side by side and instead single file only is allowed. In case there was a chance that these people may try and fly upwards and escape there is also metal wire placed on top. I felt like a chicken in a cage.
In the adjacent line, a small child about 4 or 5 years old was crying, holding onto the bars and crying. His father tried to comfort him. Imagine being brought into the world and knowing nothing apart from cages. I reach into my bag and hand him some sort of pastry.
There are security cameras every where pointing in all directions and to the left is a small room, where a soldier sits and stares at us holding her gun for protection through the window. I wonder if it's easier to put people in single file as this makes it easier for them to be shot at.
At the end of this line is a turnstile – which only allows one person through at a time. Every so often the soldiers close it so that people can't pass. Once you pass through this turnstile you are fortunate enough to join the second queue. At which point you place your bags on an x-ray machine (like those in the airport) and you one at a time show your ID to the soldier who is cocooned in a room.
Again there are about 6 available lines to be used but only 2 are open adding delays to the every day lives of these people. These checkpoints fill me with fear. This is something which is unexplainable. I have done nothing wrong, I have not committed a crime and yet I am scared. We waited for 45 minutes to cross this check point and then as you continue on foot you are welcomed by a sign wishing you a nice day and onward journey .. a sign that I want to spit at, come out in the blazing sunshine on the other side, we step onto the bus again as if nothing had happened!
I wonder how people at home would cope if they had to spend 45 minutes to cross the street. This checkpoint has been there for approximately 8 years. My companion told me that he used to work in Jenin and it used to take him 45 minutes to get from Jerusalem to Jenin. He had to give up his job because due to the 5 checkpoints the journey now takes him more than 5 hours.
So this checkpoint was worse than an airport, it states that it is to protect the people – but I do not feel protected, only threatened.
14 July, 2008