Dr H. in the Holy Land VI: Bethlehem Arab Society for Rehabilitation

The hospital I am volunteering in gives me hope for this country, it is a symbol of a community working hard despite the daily hardships that they encounter in a land where the word "mam-noa" meaning "forbidden" is often said. Although a very small establishment, it is functional and serves the population here, people all over the West Bank come for their treatment. It is recognized primarily for its rehabilitation service, and people that I have met in Jerusalem speak highly of BASR having come here following strokes.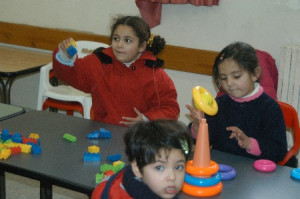 In addition, it has a brilliant ward for the rehabilitation of children. The children have neurological deficits as the result of cerebral palsy, road traffic accidents, congenital and unfortunately also trauma. The focus is on short term rehabilitation with physiotherapy, speech therapy and occupational therapy.
Most of the doctors have been trained abroad and they chose to come back to their country – a statement of their loyalty to the plight of their people. Of course without a doubt had they stayed abroad their life would be easier and more comfortable.
The hospital has 2 operating rooms, an outpatient clinic, an intensive care unit and a 4-bed ER! It has its own pharmacy, optician and laboratory as well. But there are some services here that are not accessible – for example, if someone needs a blood transfusion, then a relative will need to drive to Hebron (through checkpoints) which on a good day is about 30 minutes a way and on a bad day can be more than 3 hours of waiting at a check point to get to Hebron and then to bring the blood back.
Water is another difficulty for this establishment and it is noticed when you watch consultants washing their hands – they turn the water on and off very quickly and never leave it running. Apparently, the week before I came, there was a crisis and the hospital had nearly run out of water. Mr Edmund, the director had been in despair. I can not imagine a hospital with out water.
Apparently, Israel turns off the supply when they fancy (or so I have been told) and it is for this reason that all houses here have huge water tanks that look like trunks or barrels on their roof, not one but several. Under the hospital I have been told that 2 deep storage wells were also built so that they can be filled when the water supplies are turned on.
Water in this land is a contentious issue. Palestinians control and consume 11% of their natural water resources whereas Israelis consume 89% of water in the West Bank – to give another example, in the West Bank and Gaza Strip per capita consumption is 60 liters per day, while in Israel it is 280 litres per day.
(See Palestine Monitor (.pdf)).
Last week, I went to Al Khader – an area in Bethlehem where CBR – community based rehabilitation – runs a program trying to incorporate mentally and physically handicapped children into the society with "normal" children for want of a better word/ expression. Society here in the past has shunned children with a disability and so the aim is to integrate them. For 2 weeks in the summer they have a summer camp. The organization in Al Khader focuses on the children having fun and with this comes integration and acceptance with other children. Many of these children are poor and this is evident from their clothes and the toy library. The toy library is a place where the children can come to play with toys, because their parents can not afford toys for them. Toys can not be borrowed and can only be used there. The room is large and airy and on the floor are thin carpets with alphabets and pictures of cars and airports. Around the room are book shelves with some books, board games. There are boxes of toy cars and dolls and in the corner there is a little kitchenette where children can play house. It makes you appreciate how lucky I am and how good my childhood has been.
The rest of the summer camp focuses on arts and crafts and these children are truly creative – having made face masks, pictures and other treats. At the end of the camp, they put on a show where they sang songs for the parents and acted out sketches including little red riding hood! It clearly was a great success with the kids all dancing and singing in happiness – all so loving and excited to see strangers – all asking "what's your name miss", "where are you from?" – children's curiosity never changes whichever country you are in…
CBR also focuses on rehabilitation in the community where physiotherapists do home visits and try and teach the parents and families how to continue therapies when they are not there. Unfortunately, I have not had the opportunity to experience this aspect yet.
19 July 2008