Having your yellowcake and dumping it too: Australia's nuclear geopolitics and the US alliance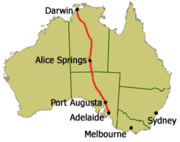 Will central Australia be the new site for world nuclear waste storage, mostly from the US, and serve to displace Aboriginal Australian communities in the Northern Territory outback? An interesting piece from my teaching colleague Alison Broinowski, published in NewMatilda in two parts, speculates about such a possibility.
Recently extended, the north-south railway that cuts vertically through the Australian continent may also be related to the sudden federal government intervention into indigenous communities, Alison writes. The rail link happens to run past remote Aboriginal communities in which Native Title has been suspended by the federal government (ostensibly on welfare grounds which have long existed), and seen as a land-grab.
The strategic significance of the railway extension—built by Halliburton subsidiary KBR—is that it passes between the largest uranium deposits in the world. The vertical rail link across the Australian landmass has long been considered economically unviable, but its construction for transporting loads of radioactive uranium—to as yet unannounced nuclear waste dumps along this axis—would explain its sudden commercial and/ or strategic viability.
In part one, Alison writes:
Always considered uneconomic, the rail link from Alice Springs to Darwin was suddenly found to be viable in 1999. A government/business partnership undertook to build it for $1.3 billion. FreightLink, a consortium of foreign and local investors that owns the railway, with a 50 year contract to run its freight operations, is a joint venture between 11 participants including Kellogg Brown Root (KBR, 36.2 per cent), Barclay Mowlem (13.9 per cent), and John Holland (11.4 per cent).

The sole tender for construction of the line was KBR, a subsidiary of Halliburton, the US company that Dick Cheney headed before he became Vice-President. Cheney visited Australia in the late-90s to negotiate the deal with South Australian Premier John Olsen and Prime Minister John Howard. Defence contracts won by Halliburton and its affiliates were worth $2.5 million in 2000; that amount increased to $18 million in 2003; and in the following year they secured more than 150 State and Federal Government commissions.

Just after the railway line opened, a leader in the Australian freight business predicted that the railway's return on capital would be 'smaller than a tick's testicles.' The company reportedly lost $17.7 million in its first half year (2004), $53.54 million in 2005, and a similar figure in 2006. To their initial $740 million, the stakeholders added $42 million, and later promised to invest an additional $14 million over three years.

In August 2007 FreightLink's business was reported to have made 'a slow start'. The company recorded its fourth annual loss in a row, having tried and failed a year earlier to sell a majority stake in the railway for $360 million.

The consortium transports iron ore from Frances Creek, manganese from Bootu Creek, and uranium from the Olympic Dam site at Roxby Downs. But there must be more to it than that — and investors' hopes of transporting copper from Prominent Hill in 2008 — for them to remain interested.

The north-south railway passes between the largest uranium deposits in the world. In late 2006, just as Howard endorsed a report advocating nuclear power for Australia, a consortium of mining industry leaders announced their intention to build a nuclear power plant near Port Augusta, northwest of Adelaide. One of them, Howard admitted, had discussed it with him six months earlier. The railway would presumably be a vital link, carrying uranium ore to Darwin for export and processing overseas, and bringing it back to Port Augusta as nuclear fuel. The spent fuel could then either be transported to Darwin for export or carried south for disposal at a waste site in central Australia.

The International Atomic Energy Agency, which proposes to control the export and processing of uranium and disposal of waste through a multilateral arrangement, has identified sites in South Australia as geologically the best in the world for disposal of nuclear waste. But no State government will take it. Downer said he wouldn't want it near his Adelaide electoral office. Having promised before the 2004 election that the Government would not dump waste in the Northern Territory, Howard declared in 2006 that he would override Territory law and use Commonwealth land there for nuclear waste if he wanted to.

In April this year he promised to amend his own law prohibiting 'nuclear activity,' to allow for nuclear power, enrichment, and reprocessing of waste. He would also remove restraints on the mining and transportation of uranium ore. In June, the Federal Council of the Liberal Party endorsed the proposal for an international nuclear waste dump in Australia.

A survey found three 'suitable' sites under Federal Government control in the Northern Territory, two north of Alice Springs and one near Katherine. In November 2005, the enabling legislation to establish a 'safe and secure facility' had been pushed through Federal Parliament. Further changes enacted late in 2006 appear to remove the rights to procedural fairness of Indigenous people living there. In May 2007, Howard revealed a deal negotiated in secret for two years that would enable his government to store nuclear waste on a 1.5 square kilometre site on Muckaty station for 200 years, for a payment of $12 million to the Ngapa people.

At Muckaty, north of Tennant Creek, close to the Stuart Highway and the railway, Parsons Brinckerhoff are reported to be exploring for a waste site. The Minister for Science, Julie Bishop, does not call it a nuclear dump: it is to be a 'radioactive waste management facility.' But because no proven technology for permanent, secure disposal exists, how and where to dump nuclear waste are two questions that remain unanswered.

A third is: whose waste? If a nuclear power industry is set up in Australia, it will be Australian waste, which should be more methodically collected and more safely stored than it is now. But the US clearly has interests in Australian nuclear policy and in the railway. Given unresolved problems with three nuclear waste sites in the US, it could well be American waste too.

Some critics of Howard's nuclear policy point out that power plants are 10 to 15 years off, and doubt that he intends them to be built at all. Instead, Australian observers like journalist Julie Macken and the Wilderness Society's Imogen Zethoven speculate that Howard's real interest is in processing and exporting nuclear fuel and developing a world nuclear waste storage in Australia.

Dr John White, who has advised Howard and heads Australian Nuclear Fuel Leasing, told Macken the United States would be the biggest customer for storage, and would be so appreciative of access to the dump that Australia would never again be obliged to send troops to join American coalitions.

But for now, Howard's nuclear plans are all over the place. He has reversed his statement that commercial considerations would alone dictate the site of nuclear power plants, and says he will hold local plebiscites first. But he has said nothing about any plebiscites on nuclear waste, and Julie Bishop still says she is considering four dumping sites, including Muckaty. Ian Macfarlane ruled out nuclear power stations in August, but Ziggy Switkowski said a re-elected Howard Government would legislate for them.

More speeches from Howard are likely, leading up to the election, about Australia being a 'global energy superpower' that is traveling on the 'energy superhighway.' … But on and around the Adelaide-Darwin railway, a lot more is happening than we will find in the election slogans.
In Part Two, she continues:
Early last year, a surprising statement in New York's Smithsonian magazine caught my eye. Author Simon Worrall, who had traveled on The Ghan between Adelaide and Darwin when the north-south railway opened in January 2004, candidly reported that its main purpose is military:

To counter today's threats — particularly from terrorist groups operating within Indonesia — the railway will provide supplies to a squadron of FA-18s based near the town of Katherine and also to the armed forces, many of which are based in the Northern Territory.

Thanks to Fiona Katauskas

Who told him that, I wondered, and what do the Indonesians think about it? But it figures: the north-south rail link was always strategic, even after World War I when British Navy Admiral Earl Jellicoe recommended a train line to service a future naval and air base that he said should be built in Darwin. Frustrated by the Stuart highway and slow coastal shipping, the United States offered to construct the railway during World War II. For years, economic considerations were the excuse for having no 'land bridge' from Alice Springs to Darwin. But military strategists know that armies can cross bridges in both directions. Now we have it: the railway, on which an invader could theoretically travel in airconditioned comfort all the way to Adelaide.

The railway is clearly strategic, and even if we don't know much about the military strategy behind it, that doesn't mean it isn't happening. The extended railway passes the world's biggest uranium deposits, several potential nuclear waste sites, and several military bases, all of which are what have made it feasible at last.

Back in May 1992, when the US had to replace its training range in the Philippines and was coming under pressure to shrink or relocate its bases in Japan and South Korea, Prime Minister Paul Keating met with then Defense Secretary Dick Cheney to discuss 'joint facilities' — as US bases are called — in Australia. Keating offered the Delamere RAAF base, south of Tindal in the Northern Territory.

Four years later, the new Howard Government put out feelers for joint activities on more sites, including a field training area and land and amphibious facilities at Bradshaw, near Timber Creek in the Northern Territory, and an air weapons range at Delamere. Speculation was encouraged about Darwin becoming the primary base for supply and deployment of forces northwards.

In 2003, US Defense Secretary Donald Rumsfeld discussed with Defence Minister and South Australian Senator Robert Hill a staging post near Darwin that could store US materiel.

The essential logistical problem was how to supply the forces in the north, other than by coastal shipping and the Stuart Highway from Adelaide. From January 2004, the new railway became the solution to that.

… In 2006 Defence Minister Brendan Nelson belatedly confirmed what ministers had been hinting at for a decade: that more 'joint facilities' would be established with the United States. In Queensland, 'training area facilities' would be built at Shoalwater Bay near Rockhampton. In February 2007, a 'missile defence' base at Geraldton in Western Australia was added to the list.

… Whatever they are called, and whatever their purpose, defence facilities in northern Australia are being built or expanded.

Near Alice Springs on the railway line is Pine Gap. Set up in 1966 as a 'Joint Defence Space Research Facility,' it was and is off limits to most Australians. For years, Australian parliamentarians have been ill-informed about what it does. The Senate's Joint Standing Committee on Treaties — established by Howard — complained in 2006 that its members were not properly informed about the base, and were still 'entrusted with less information than can be found in a public library.'

Recently, Nelson told us a little more about its current operations, which now include collecting information 'of interest to Australia' on ballistic missile launches. He warned Parliament last month about unnamed nations 'aggressively pursuing' such programs, and developing weapons of mass destruction. He did not speculate on whether those nations might be China and North Korea, or if they are responding to Nuclear Missile Defence or 'Star Wars,' the US missile defence scheme that Australia supports. Nor did he say whether Pine Gap — whose contribution to the Iraq invasion was crucial — makes Australia a larger target for terrorists. But Pine Gap and Australia's Jindalee over-the-horizon radar system are now involved with Star Wars.

The train line also passes vast tracts of Indigenous land, which have now become strategic too.

Legislation passed in August as part of the Federal Government's Northern Territory 'emergency intervention' put enormous areas of land at the Government's disposal. Seen by critics as a semi-permanent land grab by a Government that has always opposed Native Title, it could clear the way for more uranium mines, nuclear waste dumps and military bases than Howard and his successors can dream of — and certainly more than they will tell us about before the election.