Civilians pay the price: US arms sales to the ME
ADDENDUM: A great flash animation by Mark Fiore on the topic at hand: with thanks to the wonderful David Baldinger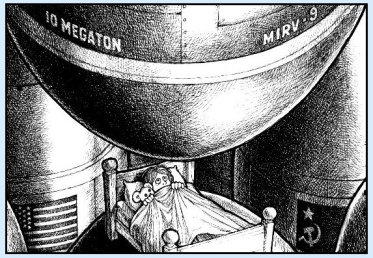 The Bush administration has just recently announced plans for a giant $60+ billion arms deal to a select number of client regimes in the Middle East. Primary beneficiaries are Israel ($30 billion alone, up 25%) and Saudi Arabia, but also Egypt, Jordan and five small Sunni Arab states in the Persian Gulf.
The administration's sham claims about waging war for democracy in the Middle East are shown up most vividly in this monster arms deal. It arms and continues to arm a number of anti-democratic hereditary monarchs, military dictators and oil sheiks, propping up these corrupt despots against their own people, who often lack basic and fundamental political rights.
Initial Israeli opposition to the proposed sale of high-tech weapons to the Arab states was assuaged by agreeing to extend by ten years US military subsidies to Israel. Of course, as Curtis at CSTF points out, Olmert then issued a specious reference to Saudi Arabia and satellites as "moderate Arab states" after flushed with the 25% increase sweetener:
"We understand the need of the US to assist the moderate Arab states which are in one front with the US and us in the fight against Iran, and on the other hand we appreciate the renewed and re-emphasised support for Israel's military and security advantage," he said.
The keywords are "military and security advantage": Iran poses a threat to Israeli regional hegemony, not its existence.
The military sales "package" to Sunni Saudi Arabia is outwardly rationalised as a counterweight to the claimed threat posed by Shia Iran. No mention of the bumper profits — as a Haaretz piece notes, the arms sales to Saudi Arabia is a highly profitable (for the US arms companies) circular transaction: Saudi Arabia will pay for the advanced U.S. weapons systems with profits from oil sales to the U.S. It may also represent a form of kickback paid to the US by the House of Saud so it won't take over the country's oil fields, as Jeff Blankfort suggests.
H/T: With thanks to Naj's post 'Can King Abdullah Walk Without Holding Hands?'
The two major recipients of the US deals are the region's two biggest human rights violators. The practices of both governments are most antithetical to the principles the current US administration claims to uphold, of course. Saudi Arabia has a despotic regime and many Saudis suffer from an absence of some of the most basic human rights; Israel is a worse than apartheid state that continues land theft and the displacement and occupation of a whole people with the largely unwitting and continued largesse of the US taxpayer. This occurs to the tune of $15.1 million per day, more than half of which Israel spends on armaments and munitions. The pre-planned war on Lebanon last year claimed well over a thousand lives, the majority of them civilians. The Israeli casualty numbers were a fifth of Lebanon's, and were mostly combatants. Whether civilians or combatants, Lebanese or Israeli, these were needless deaths in a sadistic war.
In forwarding this action from the US Campaign to End the Israeli Occupation in response to the US military aid increase for Israel, Jeff Blankfort writes that despite the likelihood that this package will pass,
"it is nevertheless important that members of Congress begin to hear from an outraged citizenry that those who continue to put Israel's interests above those of their American constituents will be considered as foreign agents who have broken their oath to defend the US Constitution."
I would add that despite the fact that most foreign aid, military or otherwise, is spent by the country giving the aid and therefore benefiting its own economy, increasing dependence in the 'gunbelt' upon the manufacturing of armaments is counterproductive and has economically deleterious effects in the long term, preventing the development of a productive-good economy.
More importantly, it is the large-scale loss of innocent lives with American weaponry that sows more enmity against the US, and the fact that it also violates US law: the U.S. Arms Export Control Act prohibits the selling of weapons to states who indiscriminately drop cluster-bombs in civilian areas (among other things) as Israel did in Lebanon just last year, the Foreign Assistance Act and the 1996 Interference with Humanitarian Relief Act. One can all too easily become cynical about the rule and force of law and its selective application, but its one thing that separates functioning democracies from purported ones.
Take Action: Oppose $30 Billion Military Aid Package to Israel

Recent media reports suggest that the United States and Israel will sign in August a ten-year agreement for $30 billion in U.S. military aid to Israel. Full details of the package have yet to emerge; however, it is reported to include a new generation of F-35 fighter jets, advanced bombs, and laser-guided missiles.
This military aid package, amounting to $3 billion per year, represents a 25% increase over the current U.S. annual military aid appropriation to Israel of $2.4 billion. Israel is already the largest recipient of U.S. military aid before the proposed increase.
The US Campaign to End the Israeli Occupation opposes this proposed increase in military aid to Israel. Instead of increasing military aid to Israel, the US Campaign to End the Israeli Occupation calls on the Bush Administration and Congress to sanction Israel by cutting off military aid to it for its continued violations of the U.S. Arms Export Control Act and U.S. Foreign Assistance Acts.
Take action today and send a similar message to your elected officials by clicking here.
The U.S. Arms Export Control Act prohibits foreign countries from using U.S. weapons against civilians or civilian infrastructure and limits their use to "legitimate self-defense" or for "internal security." The U.S. Foreign Assistance Act states that "No assistance may be provided under this part [of the law] to the government of any country which engages in a consistent pattern of gross violations of internationally recognized human rights".
Rather than use U.S. military aid for "legitimate self-defense" or "internal security", Israel relies upon it to prosecute its illegal 40-year old foreign military occupation of the Palestinian West Bank, East Jerusalem, and Gaza Strip. "Gross violations of internationally recognized human rights" against Palestinians living under Israel's illegal military occupation have been well-documented by numerous Palestinian, Israeli, U.S., and international human rights organizations, as well as by the U.S. government.
During Israel's attacks last summer upon civilians and civilian infrastructure in the Gaza Strip and Lebanon, the US Campaign to End the Israeli Occupation documented many instances of Israel using U.S. weapons in violation of U.S. law and demanded that the Bush Administration and Congress hold Israel accountable for these violations of law. For additional details, click here.
Thanks in part to your demand for accountability, the State Department in January 2007 sent a top-secret report to Speaker of the House Nancy Pelosi and Senator Joe Biden, Chair of the Senate Foreign Relations Committee, claiming that Israel may have violated the U.S. Arms Export Control Act by indiscriminately dropping cluster munitions in civilian areas in Lebanon during last year's war. A final report with definitive conclusions has not yet been issued.
The Bush Administration and Congress make a mockery of the rule of law by supporting an increase in military aid to Israel even before the government's own investigation of Israel's prior violations of the U.S. Arms Export Control is completed.
Please take a moment to contact your elected representatives today and urge them to oppose an increase in military aid to Israel and to sanction Israel by cutting off military aid for its prior violations of U.S. law. Click here to send your message.
Related: