John Perkins Medley: Economic Hit Man/ Secret History of the American Empire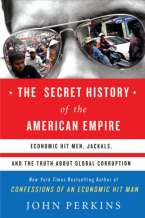 An 'Economic Hit Man' perspective on waging (economic) war in service of corporate-led globalization from former economic hit man (EHM) John Perkins.
In his book Confessions of an Economic Hitman and subsequent talks (see sample videos below), Perkins provides invaluable insights into the role of EHM. It is interesting that the boundary between waging economic and military war is blurred; Perkins appears to slightly privilege the primacy of economic rationales and contends that the military (notwithstanding the 'jackals' or assassins) go in after the economic hitmen fail.
Related:
Videos
Book talk (8.24)
Democracy Now! (10m)
The video below is the first part of a speech given to the Veterans For Peace National Convention, Seattle, WA 1 August 2006. Listen out at the 14 minute mark wherein he claims that Israelis are pawns in the economic hit game, that Israel is about creating a surrogate fortress in the Middle East for the neo-neo brigade.
Veterans For Peace National Convention (21 m)