Peace geographies: the Global Peace Index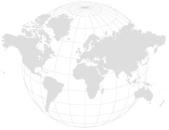 "The real voyage of discovery consists not in seeking new landscapes but in having new eyes." — Marcel Proust
The world contains both relative peaceful oases as well as conflict hotspots, often within the same country and region. Applying more holistic measures and definitions of peace and security such as environmental sustainability and social justice, one is afforded a more nuanced picture of societal peace on the globe.
One such new measure is the Global Peace Index (GPI), launched on 30th May. The world's first index measuring peace, it uses metrics that combine both internal and external indicators of peacefulness.
More qualitatively, it takes as its starting point the sensible premise that one would do well to study health rather than just disease. As we know, peace is far more than simply the absence of war, which the GPI measures, but it is a valuable push-start to identifying and applying more of the drivers and dynamics of peace.
Just as a combination of endogenous and exogenous factors has an important part to play in the casting of true peace and security, a more holistic framing of what living peacefully means is clearly required — eschewing narrow military definitions and recognising healthy indicators in such important factors as civil society and equitable access to clean water.
The Index was the brainchild of Australian entrepreneur and philanthropist Steve Killelea and developed by the Economist Intelligence Unit; 121 countries were examined in the study. Visit the website for more information.
As a more complex mosaic of political and cultural complexity of international and internal affairs emerges, there may be some surprises —
Top Three

1. Norway
2. New Zealand
3. Denmark
In the Top 50, we have 6 countries or a healthy 10%+ of the rankings from the Middle East and North Africa — Oman, Tunisia, United Arab Emirates, Kuwait, Morocco and Qatar. If Africa is taken geographically, we can add 3 countries from the top fifty — Botswana, Ghana, Mozambique and Madagascar just off the mainland.
From Eastern Europe there are 9 countries represented in the Top Fifty; Asia and Oceania 10 countries; 5 from the Americas, North and South; and 16 from Continental and Northern Europe. See the full list of country rankings here, as well as two longer reports extrapolating from these findings here.
I haven't mentioned how the USA or Australia ranked, so visit the website for more. There are three Anglophone countries in the Top Ten (well, maybe one and a half, as two of the countries are largely bi-lingual).
Bottom Three

119. Israel
120. Sudan
121. Iraq