Imperial Parallels: Iraq
In many ways, 2007 is still mired in the twentieth century. Sometimes events are better markers than year numbers, and this past century has practically been bookended by British and US meddling in Mesopotamia. As the Congressional Democrats betray their constituents with a pork-filled cave-in to Bush on Iraq and Afghanistan war funding —delivering not just $95 billion more but the bill no longer has any timelines for troop withdrawal—we recall not only the more recent folly of the Vietnam war but the folly at the other side of the twentieth century, with the British in Iraq/ Mesopotamia.
TE Lawrence's words ("Lawrence of Arabia") in 1920 reveal parallels with today:
"The people of England [+ America] have been led into a trap in Mesopotamia from which it will be hard to escape with dignity and honour.

They have been tricked into it by a steady withholding of information [and outright deception].

Things have been far worse than we have been told, our administration more bloody and inefficient than the public knows…We are today not far from a disaster.

We said we went to Mesopotamia to defeat Turkey [terrorism-al-Qaida]. We said we stayed to deliver the Arabs from the oppression of the Turkish [Saddam Hussein] Government, and to make available for the world its resources of grain and oil. We spent nearly a million men and nearly a thousand million of money [two trillion dollars] to those ends.

Our government is worse than the old Turkish system [Saddam Hussein's]. They kept fourteen thousand local conscripts employed, and killed a yearly average of two hundred Arabs in maintaining peace. We keep ninety thousand men [162 000 troops and 120 000+ private military contractors], with aeroplanes, armoured cars, gunboats, and armoured trains. We have killed about ten thousand [70 000 — and they're just the documented civilian deaths; 650 000 death toll than would have otherwise occurred according to the Lancet study] Arabs in the uprising this summer [over the war]. …

How long will we permit millions [billions] of Pounds [dollars], thousands of Imperial troops, and tens [hundreds] of thousands of Arabs to be sacrificed on behalf of a colonial administration which can benefit nobody but its administrators [war profiteers, arms companies]?"
Lt. Colonel T. E. Lawrence, Sunday Times (London), 22 August, 1920
* See also Keith Olbermann (the Democrats "Neville Chamberlain Moment") and Mike Gravel (a Democrat talking sense on Iraq) videos appended to this post after the 'More' break

Related Posts:
Continued: The Cost of War in US Federal Budget Outlays (pie chart)
+ Keith Olbermann Special Comment and Mike Gravel
Cost of War
US Federal Budget Outlays Pie FY 2008 (source: warresisters.com)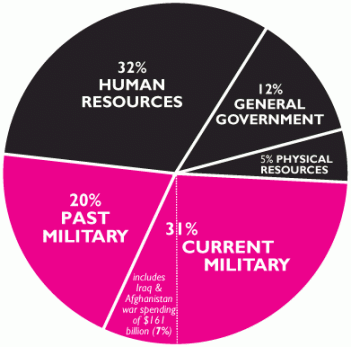 For more information on how this was calculated please visit their site.
Keith Olbermann (transcript here): 7:51
Mike Gravel on CNN: 7 mins