Home: justice for the Chagos Islanders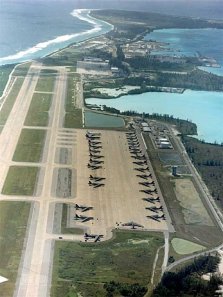 You may have read that the Chagos Islanders have won the legal right to go home, a victory delayed but a victory nevertheless.
In the 1960s and 70s, this placid Creole populace of 2000 were forced to leave their idyllic (and strategically located) homeland in the Indian Ocean to make way for a US military air and naval base on the largest atoll of this British colony, Diego Garcia, arranged in a secret US-UK government agreement.
This forcible depopulation occurred so that the US military could use it as a military base and then also to operate the Global Positioning System (GPS). The air base on the island of Diego Garcia has since also been used to bomb Iraq and Afghanistan.
The Appeal Court in London has upheld the previous High Court declaration that the expulsion of the people of the Chagos Islands in the Indian Ocean by the British government was "repugnant, illegal and irrational". The Chagos Islanders are now free to go home upon arrangement of transport.

Olivier Bancoult, chairman of the Chagos Refugees Group (pictured), has lead the campaign to win the right to return. With a beam and a victory sign outside the Court, he said his priority was to go home as soon as possible and tend the graves of his ancestors.
The British Foreign Office had lodged an appeal against their return after they were twice granted legal right of return. In 2000, the courts ruled that Chagossians could return to their homes in 65 of the tiny islands, but not to Diego Garcia. Robin Cook, the then Foreign Secretary, had said the government would not appeal.

In 2004, however, the British government used the royal prerogative to effectively nullify the Court's decision.
Last year the High Court in turn overturned the royal prerogative order in this case. It rejected the government argument that the royal prerogative, exercised by ministers in the Queen's name, was immune from scrutiny. (The government had invoked security and argued on the basis that it would hamper its discretion to operate).
In handing down their decision the Court averred on Wednesday that the right to go home was "one of the most fundamental liberties known to human beings".
Congratulations to the Chagossians on their victory after nearly half a century. Though there may yet be an appeal allowed (the judges refused the Government leave to appeal to the House of Lords, although the Lords can still choose to entertain an appeal) the path seems clear for these islanders to make their way home.
It is heartening to see a case where the legal Right of Return is made to finally correspond with the moral Right of Return, and justice served.
Here's a look back upon their history, in John Pilger's Stealing a Nation (56 mins):