Visit the OPT, Oprah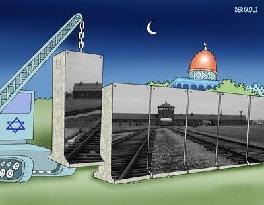 The Los Angeles branch of Women in Black are mounting a campaign for Oprah Winfrey to visit the West Bank and/ or Gaza (the Occupied Palestinian Territories) as she has accepted an invitation to visit Israel.
Y-Net reports that Elie Wiesel called on Winfrey to visit Israel, where he claims "the major war against terror is currently taking place." No, Mr. Wiesel, its where a war of terror is taking place.
Greta Berlin of WIB has issued a campaign suggestion to write to the following address and urge Oprah to visit the OPT — http://www2.oprah.com/email/reach/email_reach_fromu.jhtml:
"Oprah Winfrey is an international figure, and it's important that her producer is flooded with invitations.

She is going to Israel, invited by Elie Wiesel. She says she's going in solidarity with the terrorized Israelis.

At first, many of us thought we'd write to her and tell her how appalled we are that she's going. We've now decided that she should, in fact, go. Many of us have already written to her producer encouraging Oprah to go…visit the occupied West Bank … talk to the Palestinians … see the wall for herself. If you're living in Israel, invite her. Ask her to please come and visit, and that you'll be happy to take her to the weekly nonviolent demonstrations in Bil'in, for example.

We need as many emails from around the world as possible, inviting her to come see the occupied territories for herself. Please send her a short note and encourage her to go to the West Bank.

Then, post to your lists and ask them to do the same thing.

Greta Berlin
Women in Black Los Angeles
For what its worth, I for one will be taking up the suggestion. Please consider also taking a few minutes to lodge a short note or letter, so that Oprah Winfrey sees the Palestinian perspective, and so that she may see that this is far from being a story with one narrative as trumpeted in the mainstream US. It will be interesting to see what type of coverage, if any, this receives on her day time show.