How Americans Are Seduced By War
A thoughtful and worthwhile video lecture delivered in 2005 by Andrew Bacevich, who argues in his most recent book The New American Militarism: How Americans Are Seduced by War that a new destructive strain in the culture of militarism is seducing Americans into the imprudent use of force, embraced by conservatives and liberals alike.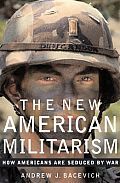 Not a pacifist nor one reflexively opposed to the use of force, Bacevich nevertheless suggests that this new destructive strain is counterproductive and dangerous to advancing American interests, and dangerous for the rest of the world. He contrasts this with American founding ideals that saw militarism as a poison — one with occasional utility — but one essentially repudiated.
More importantly, he proposes ways to restore balance and transmute this strain in American foreign and military policy. The lecture itself is only 30 minutes, with a very good Q and A afterward.
Related:
* The Normalisation of War, Tom Dispatch (20 April 2005)
* Taylor McNeil, Seduced By War, Bostonia, Winter 2004-5
* Harry Kreisler in conversation with Andrew Bacevich, The Military and US Foreign Policy, Conversations with History, 2005
Runtime: 63 minutes
Related Posts:
* War profiteering in Iraq: the private Pentagon(e) contractors
* James Petras: Economic Empire Building and Domestic Decay
* Capitalism and War