Gaza Strip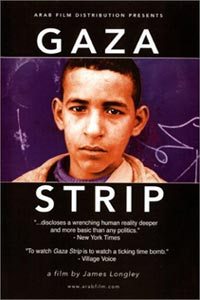 I bought this 2002 documentary, Gaza Strip, only a few days ago. The expression of the boy on the dvd cover, he looks maybe ten, twelve, haunted me. It is the eyes of a boy who has known sorrow as well as strength, who has seen too much for his young age.
He turns out to be Mohammed Hajezi, a 13 year-old Palestinian boy and newspaper-seller. Despite his limited schooling, he is extremely articulate in his moving narration, describing life under Israeli imprisonment military occupation in the Gaza Strip (Occupied Palestinian Territories — see map below) and how he has witnessed his own friends being shot at Karni Crossing by Israeli soldiers, including the fatal shooting of his best friend.
The worldliness of the young group of stone-throwing boys at the start is striking. The sometime resignation, sometime bravado and the expressions of hope of Gazans despite Israel's crimes are heart-rendering. The effects of the horrific experimental weapons used by Israel (thirty minute mark) is shocking and appalling, as is how the inhumane conditions are robbing both children and adult Gazans (two women at the sixty minute mark) of faith in the future and the will to live.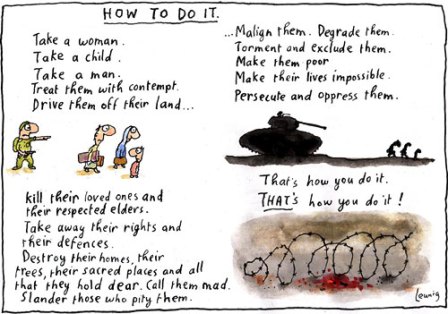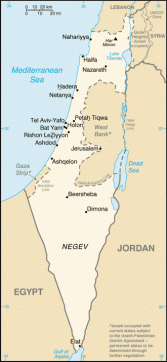 This is what the US federal government is bankrolling for Israel: death, destruction, despair, dispossession, apartheid, bulldozing of homes and the imprisonment and strangling of a whole people. The Gaza Strip is just 28 miles long and 4 miles wide, yet home to over 1,200,000 Palestinians, making it one of the most densely populated areas on the planet.
Kudos to award-winning American director James Longley for filming this most compelling and important documentary. May it awaken the conscience of those not already aware of what is happening.
In January of 2001, American director James Longley traveled to the Gaza Strip. His plan was to stay for two weeks to collect preliminary material for a documentary film on the Palestinian Intifada. It was during his stay that Ariel Sharon was elected as Israeli Prime Minister. As violence erupted around him, Longley threw away his return ticket and filmed for the next three months, acquiring nearly 75 hours of footage.

Gaza Strip, his first feature documentary, is an extraordinary and painful journey into the lives of Palestinians in the Gaza Strip struggling with the day-to-day trials of the Israeli occupation. Filmed in verité style and without narration, Gaza Strip at last gives voice to a population largely ignored by mainstream media.

Map: shows tiny Gaza Strip on the west coast and the West Bank on the right hand side of Israel. These two territories make up Occupied Palestine, territorially discontiguous and still subject to the building of illegal Israeli settlements further encroaching upon Palestinian land.


RT: 74 minutes
Related:
* Buy it at Palestine Online
* Film's official website

Reviews
* Leslie Smith, Forgotten by History
* Nigel Parry, James Longley's Gaza Strip