Outsourcing the Military: Blackwater and Bush
The second-largest army in Iraq does not belong to a country, it belongs to a corporation. They are the tens of thousands of private security contractors in which Blackwater dominates.
While these private contractors are mercenaries, they are there at the behest and policy direction of the Bush administration but are not accounted for in Bush's surge numbers. This contractor-army constitutes an undeclared expansion of the US presence and a privatisation of the war in Iraq.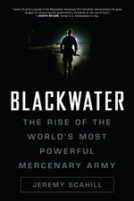 Jeremy Scahill of The Nation and author of Blackwater provides an authoritative look at Blackwater and the Bush administration (RT 4:25).
See also:
* Robert Baer, Iraq's Mercenary King, 15 March Vanity Fair (April 2007 print ed.)

* Jeremy Scahill, Blackwater, Inc. and the Privatization of the Bush War Machine, Counterpunch (25 Jan 2007)

* M. Idrees Ahmad, The Dogs of War, The Fanonite, 21 March 2007
On Democracy Now! (7:07 and 7:14)