Hooded Abu Ghraib man testifies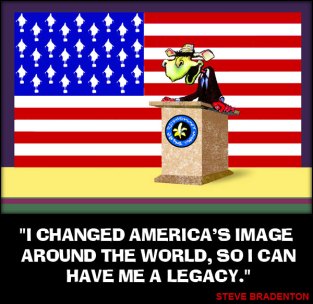 His image has become the terrible motif for torture and the Bushwacked age. As it turns out, his fate was to be one of the lucky ones. He didn't remain imprisoned as so many others did, and his terrible ordeal has ended in him setting up an organisation that represents tortured victims in Iraq.
The hooded Abu Ghraib man—let's respectfully call him by his name, Professor Ali Shalah—testified at a war crimes conference, the Perdana Peace Forum, in Kuala Lumpur last month. Prof. Salah is a scholar and a theologian.
There are currently 150,000 prisoners in Iraq who are illegally detained. This is illegal because it breaches international law as codified in the Geneva Convention. Moreover, the International Committee of the Red Cross (ICRC) has no access to thousands of detainees, another violation of the Convention within which the ICRC has a mandate.
The article is available in full at Global Research, from which the following is excerpted:
"The next morning the interrogator came to my cell and tied me to the grille of the cell and then played the pop song 'By the Rivers of Babylon' continuously until the next morning. The effect on me was that I lost my hearing and lost my mind," he added.
On the 15th day of detention, Ali was given a blanket, in which he made a hole and used it to cover himself.

Soon after this, the former lecturer said he was forcefully placed on top of a carton box containing canned food, had wires connected to his fingers and ordered to stretch his hand out horizontally, and the electricity was switched on.
"As the electric current entered my whole body, I felt as if my eyes were being forced out and sparks were flying out. My teeth were clattering violently and my legs shaking violently as well. My whole body was shaking. I was electrocuted on three separate sessions," he said to pin-drop silence in the hall.
He is detained for another 45 days. As to his release, after being beaten, sodomized, tortured, electrocuted and wrongly imprisoned?
"At the end of the 49th day, I was transferred back to the tents and after 45 days at the tents, I was informed by a prisoner that he overheard some guards saying that I was wrongly arrested and that I would be released.
"I was released in the beginning of March, 2004. I was put into a truck and taken to a highway and then thrown out. A passing car stopped and took me home."