Off its rocker: apartheid state beating war drums
While the UN high commissioner for human rights, Louise Arbour, condemns massive human rights abuses in Gaza even as Israel launches raids, the fear-mongering about Iran by Netanyahu continues, with this ridiculous speech featured at the Australian Jewish News :
Netanyahu: 'It's 1938, Iran is Germany': LOS ANGELES – Echoing Israel's increasing concern about Tehran's nuclear weapons program, Likud leader Binyamin Netanyahu called for urgent action against Iran, which he compared to Nazi Germany.
"It's 1938 – and Iran is Germany," Netanyahu said repeatedly in an address to some 5000 delegates at the United Jewish Communities' General Assembly in Los Angeles. "When someone tells you he is going to exterminate you, believe him and stop him."
Whilst patently absurd and this site has featured good critical sources that repeatedly question the disinformational "wipe off the map" mistranslation canard, that isn't stopping thief-in-chief war criminal Dubya from declaring, incredibly; I would understand if Israel chose to attack Iran (Ha'aretz, 20 Nov).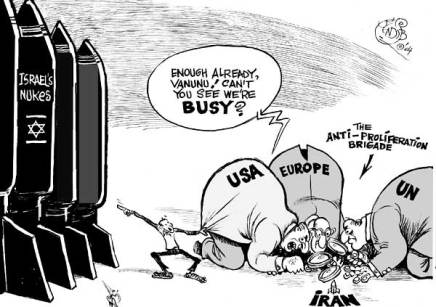 Iran has every right to develop nuclear energy, and is at least a signatory to the Nuclear Non-Proliferation (NPT) treaty, which Israel isn't. Its the apartheid state that isn't inspiring good faith or confidence and is continuing its bellicose war drum beating, not Iran.
The article states that the Israeli establishment is worried that the newly Democrat-controlled US Congress will be averse to an invason of Iran. Putting aside for one moment how most members of the Republicodemocrats are but members of two branches of the same war party, that is at least one good thing that has come about from the US mid-terms, if we keep up the pressure and scrutiny and remind them (US Democrats) of their mandate.
Cartoon © Khalil Bendib, All rights reserved. Check out his brilliant site

Israel's Minister of Strategic Threats indicates the size of his grey matter
Coming soon: a short review of a great book of political cartoons which has just landed in my mailbox, from the pen of Khalil Bendib.