Donors pledge over $940m for Lebanon
Agencies | Thursday August 31, 2006 Guardian Unlimited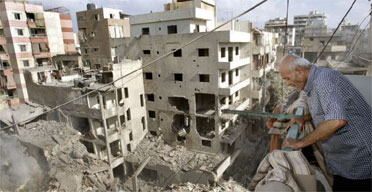 A man in a southern suburb of Beirut inspects damage caused by an overnight Israeli air raid. Photograph: Lefteris Pitarakis/AP.

International donors today pledged more than $940m (£490m) for early reconstruction efforts in Lebanon and called on Israel to lift its sea and air blockade of the country.The Swedish organisers of the aid conference, held in Stockholm, said the commitments were almost double their initial target of $500m. "The conference has thus met its objective with a wide margin," said Swedish foreign minister, Jan Eliasson.
Adding previous pledges and commitments for longer-term reconstruction projects, the minister said a total of $1.2bn had now been made available to rebuild Lebanon.
Representatives of more than 60 governments and organisations met in Stockholm. The Lebanese prime minister, Fuad Saniora, told the conference of his "great appreciation" to the donor countries.
The south of Lebanon, large parts of Beirut and other areas around the country were bombed by the Israelis during a 34-day conflict between them and Lebanese Hizbullah fighters. The financial impact of the damage on Lebanon and loss of economic earnings is expected to run to several billions of pounds.
"Lots of work has been done during the past week in order to preserve the dignity of the Lebanese, and in order to stop the aggression that was made against them," Mr Saniora said. "Lebanon, which only seven weeks ago was full of hope and promise, has been torn to shreds by destruction, displacement, dispossession, desolation and death."
He said the conference was successful "not just in terms of show of support of solidarity in the speeches that have been made, but also in the pledges that have been made, that show once again, that the Lebanese people are not alone".
The conference took place amid growing concern among Western diplomats that cash handouts from Hizbullah to those whose homes were destroyed or damaged would entrench the guerrillas' popularity. It is thought Hizbullah is being financed by Iranian petro-dollars.
Lebanon hopes to hold a bigger conference later this year to raise money for longer-term reconstruction.
A statement issued at the end of this week's conference called on Israel to end its air and sea blockade of Lebanon, saying it was "a major impediment to the early recovery process".
Israel has said it would only allow free movement after the UN-brokered ceasefire deal that halted the fighting takes full effect and peacekeepers are deployed.
Stockholm will also play host to a smaller gathering tomorrow to discuss humanitarian needs in the Palestinian territories.