Lebanon oil slick 'hits seabed'
By Chris Morris
BBC world affairs correspondent, Beirut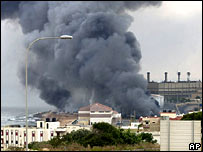 The spill was caused by Israeli bombing of the Jiyyeh power station
Environmental pressure group Greenpeace has discovered large amounts of oil on the seabed off the Lebanese coast.
It is part of an oil slick created by Israeli bombing in mid-July during its military campaign in Lebanon.
Greenpeace says urgent action needs to be taken.
An estimated 10,000 to 15,000 tonnes of highly toxic fuel oil poured into the Mediterranean Sea after Israeli jets bombed a power plant south of Beirut.
Now Lebanese divers have taken underwater video footage of large amounts of oil coating the seabed, some of it up to 10cm thick (four inches).
Rick Steiner of the University of Alaska, an oil-spill expert advising the Lebanese government, is shocked by what they found.
"I have never in my years of looking at oil spills seen such gross contamination of the seabed. There's no way to cut it – oil and water and fish and wildlife simply do not mix," he said.
So far, divers have only surveyed a small section of the seabed.
The need now is for a more comprehensive study.
Aerial assessment
With Israel still enforcing an aerial and naval blockade of Lebanon, the United Nations Environment Programme (Unep) has only just received permission to overfly the area to assess the damage further.
Zeina al-Hajj, the Greenpeace co-ordinator in Beirut, is calling for urgent action: "Each drop of oil you take out from the water, you're preventing it from going underwater. But the reality is that there is a huge environmental disaster in Lebanon and unfortunately, the environment is the forgotten victim now."
Five weeks after the oil spill, the Lebanese government has now approved a plan to tackle the contamination.
It includes shoreline clean-up teams.
But this new video evidence proves that it will have to focus more closely on the seabed as well.
At best, it will take many months to repair the damage to the marine environment.