Amnesty: Israel accused over 'war crimes'
See original Amnesty Report: Israel/Lebanon: Evidence indicates deliberate destruction of civilian infrastructure Press Release, Full Report, Multimedia Feature
BBC | Wednesday 23 August 2006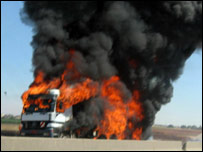 Amnesty criticises attacks on fuel supplies [Image: AI]
Amnesty International has accused Israel of committing war crimes by deliberately targeting civilian infrastructure in Lebanon. The human rights group says attacks on homes, bridges, roads and water and fuel plants were an "integral part" of Israel's strategy in the recent war.
The group also calls for a UN investigation into whether both Israel and Hezbollah broke humanitarian law.
Israel said it did not deliberately target Lebanon's civilian population.
In a report released on Wednesday, Amnesty International bases its accusations on an examination of Israeli attacks and comments made by Israeli officials during the 34-day conflict with the militant group Hezbollah.
'Massive destruction'
"The pattern, scope and scale of the attacks makes Israel's claim that this was 'collateral damage', simply not credible," said Kate Gilmore, Executive Deputy Secretary General of Amnesty International.
South Beirut before and after the war [Images: Digital Globe]

Enlarge Image
The document details what it describes as "massive destruction by Israeli forces of whole civilian neighbourhoods and villages", together with attacks on bridges "in areas of no apparent strategic importance", on its list of supporting evidence.
It also says Israel targeted supermarkets, water pumping stations and water treatment plants, which may have broken a prohibition in humanitarian law against targeting objects crucial to civilian survival.
The report lists Israeli statements – such as comments made by Israeli Chief of Staff Lt Gen Dan Halutz that "nothing is safe [in Lebanon], as simple as that" – to support its claims.
'Lawful'
Israeli government spokesman Mark Regev said Israel's actions during the war were "in accordance with recognised norms of behaviour during conflicts and with relevant international law".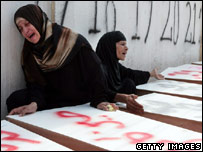 About 1,000 Lebanese, mainly civilians, died in the fighting
"Unlike Hezbollah, we did not deliberately target the Lebanese civilian population," he said.
Lebanese infrastructure was "targeted only when that infrastructure was being exploited by the Hezbollah machine, and this is in accordance with the rules of war", Mr Regev said.
Ms Gilmore said Israel's claims that attacks on infrastructure were lawful was "manifestly wrong".
"Many of the violations identified in our report are war crimes, including indiscriminate and disproportionate attacks," said Ms Gilmore.
The human rights organisation said it would look into Hezbollah's attacks on Israel separately.
Israel launched its offensive after Hezbollah militants seized two of its soldiers and killed several others during a cross-border raid on 12 July.
Hezbollah responded to the Israeli air and ground offensive by firing thousands of rockets into Israel's northern towns.
About 1,000 Lebanese – most civilians – died in the conflict, while 161 Israelis, mainly soldiers, were killed.