A fanatical ultra-orthodox 'welcome', and, a hidden agenda for Jerusalem
Anne Barker, an Australian journalist with the ABC, was recently caught in an Hasidic mob's hate in occupied Jerusalem, here with an audio testimony. So called Christian zionists might be interested to see how these fanatics, which the zionist entity apparently and not surprisingly fails to bring to heel as with the fanatic illegal settlers, brook no reasonable acceptance of any others who wish to do normal things on Saturdays. Rather, they demand that everyone else must conform to their narrow religious dogmas — or be repeatedly spat on and set upon by hundreds in these orthodox Hasidic Jewish mobs. See also some important observations from Dan Lieberman that follow about historic co-existence in the Holy City and the apartheid state's hidden agenda for Jerusalem.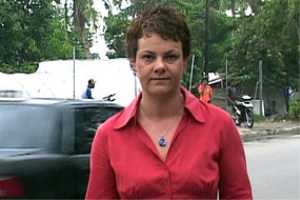 As a journalist I've covered more than my share of protests. Political protests in Canberra. Unions protesting for better conditions. Angry, loud protests against governments, or against perceived abuses of human rights.
I've been at violent rallies in East Timor. I've had rocks and metal darts thrown my way. I've come up against riot police.
But I have to admit no protest – indeed no story in my career – has distressed me in the way I was distressed at a protest in Jerusalem on Saturday involving several hundred ultra-Orthodox Jews.
This particular protest has been going on for weeks.
Orthodox Jews are angry at the local council's decision to open a municipal carpark on Saturdays – or Shabbat, the day of rest for Jews.
It's a day when Jews are not supposed to do anything resembling work, which can include something as simple as flicking a switch, turning on a light or driving.
So even opening a simple carpark to accommodate the increasing number of tourists visiting Jerusalem's Old City is highly offensive to Orthodox Jews because it's seen as a desecration of the Shabbat, by encouraging people to drive.
I was aware that earlier protests had erupted into violence on previous weekends – Orthodox Jews throwing rocks at police, or setting rubbish bins alight, even throwing dirty nappies or rotting rubbish at anyone they perceive to be desecrating the Shabbat.
But I never expected their anger would be directed at me.
I was mindful I would need to dress conservatively and keep out of harm's way. But I made my mistake when I parked the car and started walking towards the protest, not fully sure which street was which.
By the time I realised I'd come up the wrong street it was too late.
I suddenly found myself in the thick of the protest – in the midst of hundreds of ultra-Orthodox Jews in their long coats and sable-fur hats.
They might be supremely religious, but their behaviour – to me – was far from charitable or benevolent.
As the protest became noisier and the crowd began yelling, I took my recorder and microphone out of my bag to record the sound.
Suddenly the crowd turned on me, screaming in my face. Dozens of angry men began spitting on me.
Spit like rain
I found myself herded against a brick wall as they kept on spitting – on my face, my hair, my clothes, my arms.
It was like rain, coming at me from all directions – hitting my recorder, my bag, my shoes, even my glasses.
Big gobs of spit landed on me like heavy raindrops. I could even smell it as it fell on my face.
Somewhere behind me – I didn't see him – a man on a stairway either kicked me in the head or knocked something heavy against me.
I wasn't even sure why the mob was angry with me. Was it because I was a journalist? Or a woman? Because I wasn't Jewish in an Orthodox area? Was I not dressed conservatively enough?
In fact, I was later told, it was because using a tape-recorder is itself a desecration of the Shabbat even though I'm not Jewish and don't observe the Sabbath.
It was lucky that I don't speak Yiddish. At least I was spared the knowledge of whatever filth they were screaming at me.
As I tried to get away I found myself up against the line of riot police blocking the crowd from going any further.
Reassurance
Israeli police in their flak jackets and helmets, with rifles and shields, were yelling just as loudly back at the protesting crowd.
I found them something of a reassurance against the angry, spitting mob.
I was allowed through, away from the main protest, although there were still Orthodox Jews on the other side, some of whom also yelled at me, in English, to take my recorder away.
Normally I should have stayed on the sidelines to watch the protest develop.
But when you've suffered the humiliation and degradation of being spat on so many times – and you're covered in other people's spit – it's not easy to put it to the back of your mind and get on with the job.
I left down a side street and walked the long way back to the car, struggling to hold back the tears.
~~~
In Why Jerusalem?, Dan Lieberman notes how the Ottomans permitted Jewish worship, unlike the intolerance and planned exclusion of other faiths by the current apartheid entity:
According to Karen Armstrong, Jerusalem, Jews did not pray at the Western Wall until the Mamluks in the 15th century allowed them to move their congregations from a dangerous Mount of Olives and pray daily at the Wall. At that time, she estimates that there may have been no more than 70 Jewish families in Jerusalem. After the Ottomans replaced the Mamluks, Suleiman the Magnificent issued a formal edict in the 16th century that permitted Jews to have a place of prayer at the Western Wall.
The only remaining major symbol of Jewish presence in Jerusalem's Holy City is the Jewish quarter, which Israel cleared of Arabs and rebuilt after 1967. During its clearing operations, Israel demolished the Maghribi Quarter adjacent to the Western Wall, destroyed the al-Buraq Mosque and the Tomb of the Sheikh al-Afdhaliyyah, and displaced about 175 Arab families.
The full piece is worth reading in full, in which he argues that "Israel is destroying Jerusalem's heritage and subjugating its spiritual meaning" in an effort to redirect attention away from the US as a focus for world Jewry toward Jerusalem, and reap tourism shekels and a baragaining chip against Palestinians in the process:
Jerusalem has significant tourism that can be expanded. It can provide new commercial opportunities as an entry to all of the Middle East. An indivisible Jerusalem under Israeli control is worth a lot of shekels.
Israel competes with the United States as the focus of the Jewish people. It needs a unique Jerusalem to gain recognition as the home of Judaism.
By controlling all of the holy sites, Israel commands attention from Moslem and Christian leaders. These leaders will be forced to talk with Israel and Israel will have a bargaining advantage in disputes.
Whatever Israel gains, the Palestinians are denied. Even if Israel agrees to the establishment of a Palestinian state, it will direct its policies to limit the effectiveness of that state. Since East Jerusalem and its holy sites greatly benefit a Palestinian economy and increase Palestine legitimacy, Israel will do everything to prevent East Jerusalem being ceded to the new state of Palestine. An "indivisible" Jerusalem is part of that effort.
Lest we forget:
In the Museum of the Citadel of David is an inscription: The land of Israel is in the center of the world and Jerusalem is the center of the land of Israel.
This self-praise was echoed at a West Jerusalem coffee house in a conversation with several Israelis. A youthful Israeli abruptly sat at the table and entered the conversation with the words: "All the world looks to Jerusalem. Jerusalem is the center of the world and Jerusalem is the capital of Israel. Everyone needs Jerusalem and they will need to talk with Israel."
And that is why Israel desperately wants its greater Jerusalem.
Along with the illegal squatters, those fanatic hasidic Jews are all part of the plan in this hidden agenda.