Cynthia McKinney and Mairead Maguire on the zionist pirates (updated)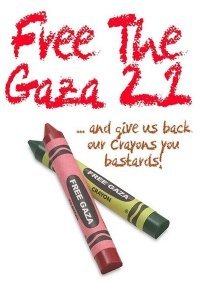 Former US Congresswoman Cynthia McKinney speaking to WBAIX from prison in the apartheid entity (thanks 99).
McKinney and the rest of the Free Gaza 21, including Nobel Peace Laureate Mairead Corrigan Maguire, were kidnapped and detained after being illegally seized by the israeli occupation navy while in international waters. They were valiantly endeavouring to deliver humanitarian aid and reconstruction materials to Gaza, which continues to suffer under a choking blockade.
According to Green Party Watch,
About an hour ago an associate of Cynthia McKinney spoke with an official at the American Embassy in Tel Aviv who stated that Cynthia McKinney and the other 20 human rights activists can be released from prison if they sign a statement of guilt in violating Israel's territorial waters, which of course they are refusing to sign.
Apparently Israeli law states that if the 21 do not sign the admission of guilt they must be held for 3 days before the Israeli Government can either choose to release them or continue to detain them.
UN Special Rapporteur Richard Falk has now also strongly condemned the seizure as a continuing crime against humanity. You can follow Free Gaza's updates via Twitter. The following photograph shows a rally in New York (photo Bud Korotzer, via DesertPeace):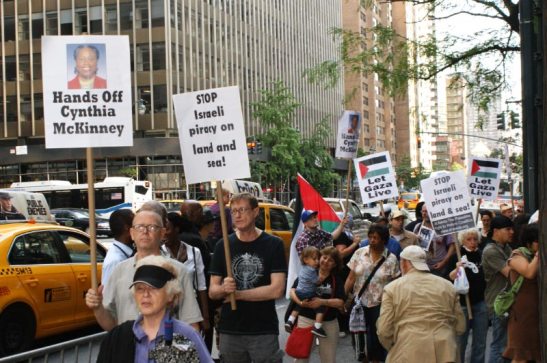 Mairead Maguire has also spoken with DN! from prison, stating, in part:
MAIREAD MAGUIRE: We have just been locked into our cells now for a couple of hours. We are currently going through their process. We are being charged with entering illegally into Israeli—near Israeli shores. We are going, it looks like, to be deported from Israel. We did not choose to come to Israel. Our little boat was boarded by the navy combat soldiers, and they came in in full riot gear onto our boat when we were just twenty-five miles off the shore of Gaza. We were under gunpoint, forcibly taken to Ashdod, held in the detention center overnight. And then I was removed from Ashdod detention center, handcuffed in a military vehicle, and brought here to the prison, where we're currently being held. All of us, all nineteen—there were twenty-one, but Huwaida and Lubna are out—but the rest of us are being held here in detention in this prison. [transcript continues after the video]
AMY GOODMAN: What is your response, Mairead Maguire, to Mark Regev, the Israeli spokesperson, who said aid is free to pass into Gaza?
MAIREAD MAGUIRE: No, that is wrong. I mean, we know it is not free. I mean, Gaza is like a huge prison, but—because its borders are closed. The sea pass into Gaza, which has been closed for over forty years by the Israeli government—we are only the seventh ship to get in to the port of Gaza that tried to break the siege.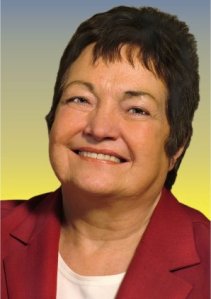 And as we do that, it's very interesting, we pass the gas fields of Gaza. You know, Gaza has huge gas deposits, which Israel is now beginning to use. So it's very important that there is the issue of who owns the gas in the Gazan Strip. And also farmers—fishermen, who try to go out without—in about twelve miles to fish for their families, are shot up and have been killed by the Israeli navy in that area.
So, Gaza is a huge occupied territory of one-and-a-half million people who have been subjected to collective punishment by the Israeli government. That breaks the Geneva Convention, every international law in the book. And the tragedy is that the American government, the UN and Europe, they remain silent in the face of the abuse of Palestinian human rights, like the freedom, and it's really tragic.
And it is also tragic that out of ten million Palestinians of a population, almost seven million are currently refugees out in other countries or displaced within their own country, particularly after the horrific massacre by Israeli jet fighters after just earlier this year. Twenty-two days Israel bombarded Gaza, Gazan people, civilians. And we're not sure what kind of weapons were dropped. We need the scientists. We need people to go in to see: is it depleted uranium in the very soil of the Gazan fields now? Unfortunately, Israel does not want human rights activists in there to see what they've done and what they're doing. Even the representative of [inaudible]—
JUAN GONZALEZ: Mairead Maguire—
MAIREAD MAGUIRE: —is not allowed in.
JUAN GONZALEZ: And, Mairead Maguire, I'd like to ask you, to your knowledge, has your government or the government of the United States, in the case of Cynthia McKinney or some of the others, attempted to visit with the detainees or to lodge protest with the Israeli government?
MAIREAD MAGUIRE: Yes, we have had [inaudible] our consulates in the different governments come here to see us. And we are concerned about the five people who came from Bahrain, and—because they don't have—their government doesn't have the same links with Israel, and we are concerned for their safety. We have asked that all those who were—who were hijacked—we were hijacked on the seas of Gaza—that they be all given freedom and their goods returned, because we have got to look out for each other.
AMY GOODMAN: Mairead Maguire, what will happen now? And we understand that some people were injured.
MAIREAD MAGUIRE: Yes, indeed. I mean, when as were the combat troops in masks and fully armed came on board our small boat, some people were injured. And even during—that happened during the day. But our life was put at risk even more, because the previous night, during the night, when we were in international waters, we were—a couple of Israeli naval ships came up around us. Over the radio, they told us if we did not turn back into Cyprus, they would shoot at our boat. They cut off our communications, including our satellite communications. So we were in grave danger of actually being killed at that point.
The second thing was, when actually the navy combat forces came on board our boat, they wouldn't allow the captain to take the boat to Ashdod; instead, they took over. And, you know, I really thought that we were all going to drown, because when we got near, when we were sailing to Ashdod, there was heavy winds, there was water coming in, and it was—really we were in a very, very dangerous position. So we were literally hijacked, taken at gunpoint by the Israeli military. And now we are here in prison, and they are threatening to deport us. We were brought here against our will. We didn't come here by choice, and we are not here by choice.