Salute: Brothers of the Fist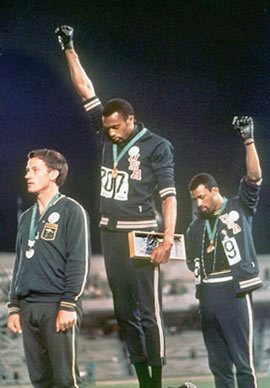 The year was 1968, the occasion the Mexico City Olympics. In one of the most powerful moments in Olympic history, Americans Tommie Smith and John Carlos gave the Black Power Salute alongside their silent (but active) supporter, Australian Silver Medalist Peter Norman.
In a pre-medal awarding deliberation among the three, Tommie Smith (Gold) and John Carlos (Bronze) signaled their intent to make a statement of defiance and Peter indicated he would be supporting them. Smith and Carlos augment their political statement by appearing on the dais shoeless and, with Tommie and John, Peter Norman sports the badge of the Olympic Project for Human Rights.
For their trouble they were ejected from the stadium afterward, and lifetime bans for the two issued by the IOC. All three were ostracized in their respective countries in the uproar that followed.
Yet a powerful statement had been made in front of an international audience in a time of apartheid in South Africa and segregated teams, and international lifetime friendships forged.
SALUTE is a film by Matt Norman, the Olympic champion's nephew. It tells the story of Peter Norman's solidarity and an unforgettable moment in recent history.
In 2006, Smith and Carlos were the lead pallbearers at Norman's funeral, with Smith describing him as "a man who believed right could never be wrong" and that "Peter shall always be my friend. The spirit shall prevail."
Carlos knew the three would be subject to ostracism and hate. "Not every young white individual would have the gumption, the nerve, the backbone, to stand there." Carlos recounted their conversation before the medal ceremony, asking Norman if he believed in human rights and if he believed in God. Norman said he believed strongly in both.
"We knew that what we were going to do was far greater than any athletic feat. He said, 'I'll stand with you'." Carlos said he expected to see fear in Norman's eyes. He didn't. "I saw love. Peter never flinched (on the dais). He never turned his eyes, he never turned his head. He never said so much as 'ouch'. You guys have lost a great soldier."
Since then, time has healed some of the effects of the scandal, despite their careers taking a battering. Smith and Carlos have been duly accorded some recognition in the US, though Norman much less so in Australia, until the making of this film. Significantly, the US Track and Field Federation has declared October 9 Peter Norman Day.
See also the film's website, Tommie Smith's website and John Carlos's site. Upon Peter Norman's passing in 2006, his memory was celebrated in renewed interest: check out these pieces by Dave Zirin, Mike Hurst, Martin Flanagan, Mike Wise, Phillip Derriman and Len Johnson. An interview of Tommie Smith is featured after the Salute movie trailer and an excerpt from a BBC 4 documentary showing original footage.
Trailer

BBC 4

Riz Khan