Suheir Hammad in Palestine: poetry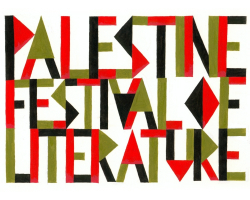 Palestinian-American artist Suheir Hammad, previously featured, is currently appearing at the second Palestine Festival of Literature, which as you may recall the zionist entity has tried to disrupt and shut down.
Thanks to Marcy Newman, who is in attendance and has a great write-up along with audio she's recorded of Suheir's always excellent spoken-word performances, we have more of this wonderful poetry as performed in Palestine.
Here are four of Suheir's poetry readings at the Festival, the first three in English and the fourth short poem mostly in Arabic, as well as a video clip.
Gaza poems (8.23)
"Break is this" (1.15)
Breaking poems: Windbreaker, Transition, etc (6.55)
Ma ba3rif aktob bil arabi (3.00)
Certified – Suheir Hammad in Ramallah – PALFEST 2009 (2.57)

THIS IS TO CERTIFY THAT MY MOTHER IS NOW NATURAL
By Suheir Hammad
Complexion Medium Certified
not too sweet not quite hot not too black not quite white
what was so middle about her
hands detangled parted and quilted
thick black waves
into braids rolled
grape leaves with style and speed
scrubbed ovens knees and backs of ears
clean with love nails always looked neat
but on closer inspection chipped and tugged tired
her voice singing um kolthom to foreign raised ears
Certified Citizen Natural Complexion Medium
how would hips be categorized
childbearing
or nose semitic
would your butt be your
african trait eyes indian hair mulatto tongue arab
mama you natural woman
of sun water air
given a nation though no land
palestinian woman loss embroidered on your forehead
more than thin -ass pieces of paper which
never certify your aspirations
dreams heartbreaks
you can make vegans eat your lamb with relish
rip your heart out to feed your man
you who makes rhinestones
sparkle diamonds sequin your daughters? ears with your laugh
memorized (but didn't have) dead presidents backwards
and forwards for citizenship a place to lay your head
but always told us
take me home when i'm dead
woman natural medium middle to nothing
never can they certify
what they don't
understand