Resisting Subversion of Subversive Resistance
Curated by Paul J. Kalemba and featuring the work of contemporary arts-activists Tom Civil, Marc De Jong, Paul J. Kalemba and Van Thanh Rudd, 'Resisting Subversion of Subversive Resistance' is an exhibition of politically engaging art currently showing in Melbourne, Australia til March 27th.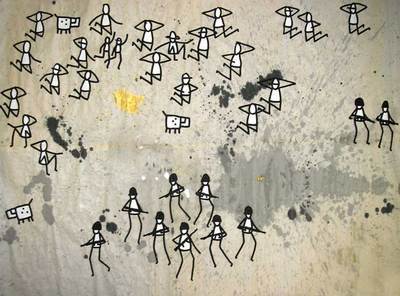 Tom Civil*
Untitled
paper, paint, marker
installation detail
© 2009
One installation, by Van Thanh Rudd (nephew of the PM), has the occupation of Palestine in its sights and was subject to (temporary) censorship after protest from Veolia and one Jewish group before being reinstated. Photographs of the installation can be seen below, as featured from Van Thanh Rudd's website. The Electronic Intifada also has a current piece on Rudd's work, entitled 'Economy of Movement – A Piece of Palestine'.
(above) Wide shot. The size of the stone is approx 12cm(h) x 7cm(w) x 5cm(depth)
(above) Close-up of left panel.
(above) Close-up of right panel
(above) Angle view of "Economy of Movement – A Piece of Palestine" 2009
* Extended biographies
Tom Sevil (a.k.a. Civil) is a community graphic designer and artist. Since completing a Bachelor of Environmental Science in 1999, he has gone on to become involved in the independent media and publishing community. Tom has worked as a graphic designer for many political and community organisations including 3CR, Seeds of Dissent Calendars, The Big Issue, Voiceworks Magazine, The Paper, Melbourne Indymedia, and Stolenwealth Games. His stencil work has been featured in Melbourne Stencil Art Capital, the film Rash, as a feature artist in Melbourne Stencil Festival, and most recently as part of the London Cans Festival. Tom is one half of Breakdown Press.
Van Thanh Rudd was born in Nambour, Queensland and is currently working in Melbourne, Australia. His involvement in the arts over the last 15 years has involved playing in various Melbourne indie bands (Cheezlekane, Seconds, Stalis Vetch and Granma) theatre design and rogue visual art exhibitions. He is the founder of The Carriers Project (since 2004) and was co-director of CLASS artspace (2007 – 2008). His art is influenced, inspired and directed towards movements of social justice around the globe. He is also an active indoor soccer player. The works displayed on his site include video, installation, drawing, painting and performance.
See also: