Mohamad Bazzi creations
Recently I came upon some beautiful paintings by a brilliant Lebanese-American artist, poet, writer and teacher, Mohamad Bazzi on his blog. His vivid use of colour is particularly striking and evocative. Some of my favourites include his collaborative works in which he led a team of artists on murals, reproduced here with their very kind permission. As well as his blog, you can also check out his website.
The first is a stunner: Journeys and Distances.
The artists: Youssef Namy, Mohamad Bazzi, Imad Hassan and Radfan alQirsh. Nice work, shabab. The mural is also for sale for an enterprising art buyer or community group. See artist's description below. Since I am thoroughly in love with it, I would love to have it hanging somewhere in Australia, but I think the shipping costs might be prohibitive. See the website for contact details if you are fortunate enough to be in a position to be interested in buying it.

Journeys and Distances (2005)

© http://www.mohamadbazzi.com
Artist Statement – Journeys Mural
September 2005
(Written for "Journeys" mural; "Journeys & Distances" Exhibit, Padzieski Gallery, Dearborn, MI.)
When the collective was creating a mural for the exhibit, we were faced with the challenge of designing a piece that would lend itself to the overall continuity of themes expressed through the works of the various artists. Conceptually, we determined that since some of the individual works of art in this exhibit dealt with various states of existence within the overall experience of migration, re-settlement and memory, the mural had to explore the migration itself, as well as a state of being that is neither alien nor native.
In the mural, the immigrants make the trek from an organic habitat to a mechanical one. They participate in the livelihood of the old and new worlds, while contributing to the civilizations of both. They are shaped by the circumstance in which they find themselves, be it the old, the new, or the migratory state of crossing over. They do not come empty handed, though, but bring with them their talents, values and cultures.
At the mid-point of the journey is a female figure, an allegory of the migration, a spiritual guide for travelers. At the far right is a male figure who is also allegorical, representing a sense of rooted-ness that exists in the old world, and which always tugs at the memories of immigrants through the physical and psychological distances that persist. In the new world, their elaborate involvement in the formation of a modern construct itself becomes the allegory for their hopes, their energy and their efforts.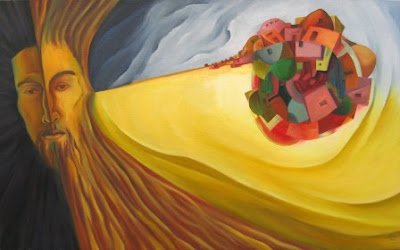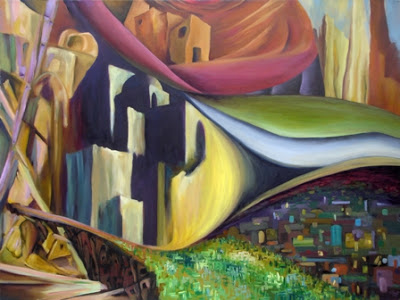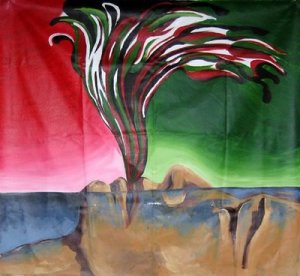 The Making of Journey and Distances Mural (2005)
About the artist – in his words
Born in Beirut, Lebanon, I emigrated to the U.S. with my family in 1978 at the height of the Lebanese Civil War. After having been first driven out of our Beirut home and my mother and father losing the school they built there, we were then driven out of our ancestral village home in Bint Jbeil, when Israel launched the first of many ill-fated invasions into South Lebanon, subsequently destroying my family's fig, peach and quince (safarjal) trees. Thankfully, they were not able to destroy our olive trees.
After studying architecture for a period of time, I studied painting, art history and education at Wayne State University and received a degree in art education. Upon experiencing certain established divides and fragmentations that exist within the institutionalized art community, the academic community, the anti-war & activist community, and the Arab community in southeast Michigan, I've begun to forge smallish inroads into these cultures and sub-cultures, for the purpose of making connections that eliminate the generational, racial, class, cultural and educational divides.
In 2004 I helped found OTHER- Arab Artists Collective in Detroit, a collaborative intellectual/artist venture. In 2006 I received the annual Artist/Performer Award from the Mayor of Dearborn and the Dearborn Community Arts Council, and in 2007 I received the Wayne State University Art Education Department's first annual "Community Service Award". I am currently a high school art & design teacher with the Dearborn Public Schools, a privilege that provides me with vast fulfillment. I am married and a grateful father of three young children.