Meeting Palestinians In Gaza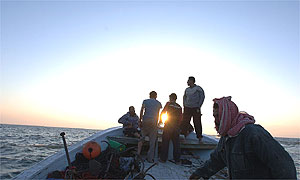 Appended below are five links to poignant short videos from the excellent Guardian series A Week in Gaza, detailing the impact of the Israeli blockade of the Gaza Ghetto on ordinary people. On this 60th anniversary of the Nakba, these heart-rending portraits of Gazans is particularly timely and offers a window into life in Gaza.
As Ali Abunimah, currently in Sydney, has said, Nakba Denial not only exists, but unlike Holocaust Denial still has some mainstream intellectual acceptance. The ongoing plight of the indigenous Palestinians after 60 years deserves our attention and support now more than ever. For our part in Australia, there is a strong campaign to have the Australian Parliament acknowledge the Nakba — please consider lending your support if you are in Australia.
1. The blockade and the smugglers (4.55)
Israel's fuel blockade has ground Gaza's infrastructure to a halt. In response, smuggling gangs bring fuel in from Egypt through underground tunnels.
2. 'Who'll look after my little ones when I'm gone?' (4.06)
In the second of five films, multimedia reporter Clancy Chassay hears from Karima, a 34-year-old mother of five, critically ill with Hodgkin's lymphoma, an aggressive but treatable form of cancer. Like all but  immediate emergency patients, she has been refused permission to cross into Israel to receive vital treatment. Her doctors in Gaza say that without this treatment she will die.
3. Meet the Bakrs … a middle-class family from Gaza (4.11)
Multimedia reporter Clancy Chassay talks to the Bakrs about life under the Israeli blockade, juggling jobs, school runs and clinical depression.
4. 'They say they have the right to shoot at us and kill us' (3.12)
In the fourth of five films from Gaza, multimedia reporter Clancy Chassay meets Samir who lost his brother and two footballing friends during Israeli rocket and shell attacks on their playing fields.

5. 'There is no normal childhood' (5.07)
Despite losing her own son only weeks ago, Insherrah Zakout counsels Gaza's traumatised children.
See also: