IPCRI Campaign for Palestinian Textbooks and other Take Action items
Gazan children are being denied the right to learn — the Israeli government is currently obstructing shipments of textbooks and printing paper (along with foodstuffs, trading, aid, money, resources and other items). While the shameful starvation and economic strangulation of Gaza weighs in most heavily, the denial of textbooks to schoolchildren is one denial of a basic human right that is being addressed in a campaign by The Israel/Palestine Center for Research and Information (IPCRI).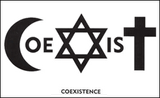 IPCRI are one of several grassroots examples of joint Palestinian-Israeli peace initiatives, successfully working together while some of their government official counterparts woefully bluster. The small but significant successes are often achieved within and despite the overwhelming structural violence of the Israeli occupation; they offer hope and a way forward at the important community and grassroots level. Groups are variously collaborations by profession, cultural and interfaith exchanges, women, youth, sporting, dialogue and confidence-building based, and are both one and two state advocates.
In this particular case, ICPRI are a two-state proponent think-tank tasked with helping to develop practical solutions to the conflict, with Palestinian and Israeli experts working together to produce detailed proposals about security, borders, Jerusalem, refugees, water, and, significantly, peace education textbooks.
As they write in their dispatches: "In light of the lack of confidence in peace on both sides of the conflict, we asked Israelis and Palestinians what would convince them that the other side was really interested in peace, the #1 answer was: when they begin teaching peace in their classrooms".
Others include the PRIME curriculum project by the Peace Research Institute in the Middle East (PRIME). PRIME are history teachers—West Bank Palestinians and Israeli Jews—who develop texts for students presenting the Palestinian and Israeli narratives. 1948 is described both as the Israelis' year of "independence" and the Palestinians' "catastrophe," or Naqba. This is a welcome improvement upon the fact that despite Israel having illegally occupied the West Bank and East Jerusalem (in violation of international law) for 40 years, maps in its school textbooks show these as part of Israel.
Peace education is an important part of meaningful peace initiatives. While it is not a substitute for the work to be done at the level of "high politics" and statecraft, it is a crucial foundation to it.
***I very highly recommend this powerful piece by Nurit Peled-Elhanan: For the children: Education or mind infection? and invite you to consider contributing to these worthwhile actions listed below.

1. From IPCRI:
IPCRI LAUNCHES PUBLIC AND DIPLOMATIC CAMPAIGN TO ALLOW THE CHILDREN OF GAZA TO HAVE SCHOOL BOOKS

Tuesday, August 21, 2007

To the Ambassadors, Consul Generals and Representatives to Israel and to the Palestinian Authority

Dear Friends,

Since the Hamas takeover of Gaza most goods heading to Gaza from Israel or from abroad have been blocked as part of the policy of pressuring Hamas. One of the goods being blocked by the IDF is paper for the printing of text books for UNRWA schools in Gaza.

In the coming days the children of Gaza will return to school and they will not have text books in their school bags. Five truck loads of paper have been waiting for the Israeli Minister of Defense himself to decide that paper for the printing of text books for UNRWA schools is a "humanitarian need".

Just imagine if it were your children who would be going to schools without text books!

It should be pointed out that General Mishlev the Head of COGAT has been trying to get the agreement of Mr. Barak to allow the paper to enter Gaza.

Yesterday we wrote to the Israeli Minister of Education, Prof. Yuli Tamir requesting her intervention, both as the Minister of Education and as a member of Mr. Barak's party.

Today we are asking you to contact Ms. Livni in the Foreign Ministry and to raise your concern about this situation. UNRWA schools are supported by the international community. Surely applying pressure on the Hamas in Gaza does not require sending children to school without books!

We in IPCRI who have been the most ardent advocates of peace education in Israel and Palestine recognize that there can be no education for peace if children are denied the right to learn.

Please take action today. We would be pleased to hear from you what action you have taken and what responses you receive.

Thank you,

Gershon Baskin and Hanna Siniora
Co-CEOs

UPDATE

Following the last email, the Israeli Foreign Ministry informed us that text books for English language study have been approved for entry into Gaza and not the paper for printing the rest of the text books. The paper issue has not yet been decided, so we would like to ask you to continue to send your letters to the Minister of Foreign Affairs Ms. Tzipi Livni (fax: +972-2-5303506), to the Minister of Defense, Mr. Ehud Barak (fax: +972-3-697-6218) and to the Israeli Embassies wherever you live.

The children of Gaza need text books to begin the school year. We need your continued assistance to ensure that the political battles will not harm the children of Gaza.

P.O. Box 9321, Jerusalem 91092
Tel: 972-2-676-9460 Fax: 972-2-676-8011
Mobile: 052-238-1715
[email protected]
http://www.ipcri.org
2. From Mazin Qumsiyeh (http://qumsiyeh.org/)

+ Take Action 1: Sign Petition to support Barnard College giving tenure to Dr. Nadia Abu Al-Haj (like Norman Finkelstein, she was targeted by the Israel lobby): http://www.petitiononline.com/Barnard2

+ Take Action 2: Oppose $30 Billion in Military Aid Package to Israel by writing to Congress (and write the media):
http://www.democracyinaction.org/dia/organizations/uscampaign/campaign.jsp?campaign_KEY=12265

+ Take Action 3: Sign petitions to lift the brutal siege on Gaza (and write the media):
http://www.petitiononline.com/SaveGaza/
http://www.palestinecampaign.org/sign.asp?PetitionID=5

+ Take Action 4: The American-Arab Anti-Discrimination Committee is launching an action to tackle the continuing demonization of Arabs and Muslims by the NY Sun and NY Post. People who live in NY and NJ who visit places where these trashy newspapers are sold are invited to ask that shops stop selling them or be boycotted. We can start with Arab and Muslim owned stores (there are hundreds of these in metro NY and NJ areas). It makes no sense for a Muslim or an Arab (or any human) store owner to be selling newspapers that are owned and run by racists and that ROUTINELY demonize and dehumanize Arabs and Muslims.