Unsettling the settlements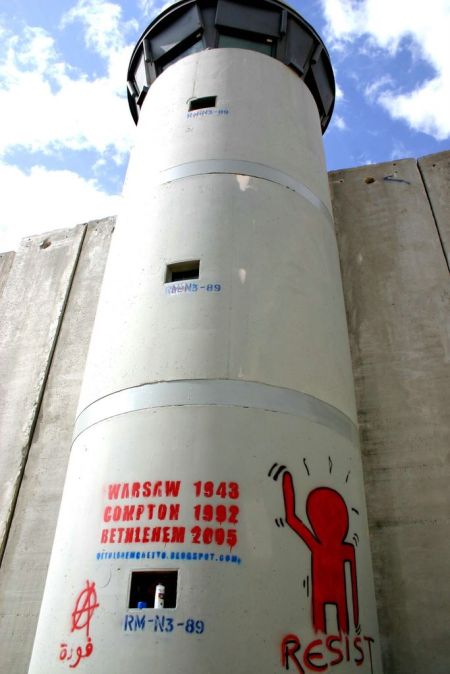 A mural on the apartheid wall imposed by Israel, courtesy http://bethlehemghetto.blogspot.com
Articles of interest
As the nonviolent protests and demonstrations against the Apartheid wall continue to gain momentum and strength in the Palestinian community in general and in villages in particular we are seeing even greater violent response and threat by the Israeli army. This is not new, in villages like Bil'in, the army has for two years responded to almost every nonviolent action with appalling violence.

As I have witnessed these actions grow, I remember the famous quote by Gandhi: "First they ignore you, then they ridicule you, then they fight you, then you win."
WASHINGTON – When West Bank settlers recently launched an ambitious campaign to sell homes in settlements to American Jews, Peace Now warned that investing in real estate across the Green Line was not only politically and morally wrong but also financially risky.

Little did we know that this real estate twilight zone would play a role in bringing Heftzibah Construction, one of Israel's largest contractors and a chief builder of West Bank settlements, to the brink of bankruptcy.

Although the financial collapse of Heftzibah was due not only to its illegal building on privately owned Palestinian land, its story should serve as a red flag for anyone considering a real estate deal in a West Bank settlement. Ask the 430 fervently Orthodox families that paid Heftzibah $100,000 each for small apartments in the settlement of Modi'in-Illit. These homeowners are barred by court order from occupying their homes because Heftzibah built some of them on private Palestinian land.
BETHLEHEM, 16 August (IPS) – Israeli forces began Wednesday to bulldoze hundreds of trees on land owned by a Catholic convent near the city of Beit Jala near Bethlehem. This section of forest is being razed, according to Israeli plans, to complete a section of the separation wall, which continues to carve the West Bank into pieces.
… "Israeli control over Palestinian land is becoming more common and many areas are declared closed military zones, leading to the evictions of Palestinian communities from those areas," she said.

Recently, Palestinians were told they could not use a section of their land near the northern border area between the West Bank and Israel for security reasons. However, the land, residents say, is now being used by settlers and they are concerned it will never be returned to them.