Beauty, beauty, everywhere: the Six Billion Others and Face of Tomorrow
Introducing–if you haven't already heard of these two great web projects, one released and one forthcoming–The Face of Tomorrow and Six Billion Others.
1. Six Billion Others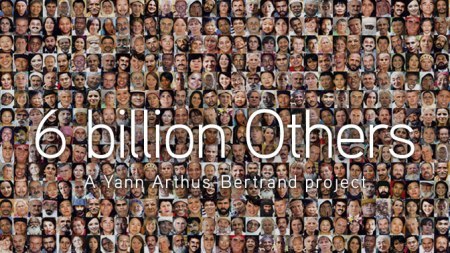 Six Billion Others is a web based video project based on the power of collective story telling. Conceived by Yann Arthus-Bertrand, the goal is to "create a sensitive and human portrait of the planet's inhabitants." Six project directors have already conducted 6,000 interviews in over 65 countries. Due for launch in 2008, the site will be in French, English and Italian and early interview previews are available at the site. Check it out!
2. Face of Tomorrow
The Face of Tomorrow is an open source visual/ photography project on the globalisation of human identity. It is a series of photographs of residents from several cities around the world, aggregating them into a super-composite that produces the "typical face". Since 2003-4, Mike Mike has completed 14 cities, with 14 to go. Check out the list of cities here. You can add new cities by joining in too by sending in 100 photos as per the site instructions.
SUPERCOMPOSITE FACE (F and M) OF SYDNEY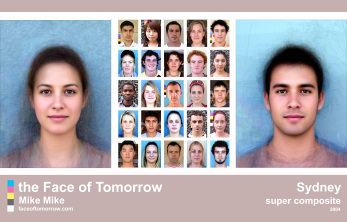 The project is the brainchild of Mike Mike, a South African-raised and Istanbul-based photographer. The website states that the project "deals with notions of race, place, identity and belonging on both an extremely local level as well as on an impossibly ambitious, almost Borgesian, global scale."
Mike travelled several cities photographing in each city the first random one hundred people he could convince to take part.
He then combined the faces to create one new supercomposite male and female individual to represent that city, in effect that supercomposite individual became the 'face' of that city. He writes:
"The process of merging the faces and coming up with someone new is really exciting. Archetypal creative stuff. You end up with a new person. Someone who didn't exist before. Someone who doesn't exist now. But someone who is nonetheless quite real."
I remember this featured in local media when the project came here a few years ago. Discovering the dedicated website just recently, I was personally struck by the beauty and humanity of such a project, particular as I looked at faces of the individuals involved. I think world leaders should be required to view such a series regularly, to remind themselves of who their policies are affecting — flesh and blood people with interesting lives, stories, and a right to live peacefully.