Sydney Palestine Rally
A wild storm swept through Sydney on Rally eve, but that didn't stop a committed turn out at Sydney Town Hall today, under the rain. This hampered photography somewhat, but I managed to take a few photographs, appended, as well as enjoy five rousing speakers on this historic marker weekend, including a South African Imam (name confirmation pending), Greens Senator Kerry Nettle, journalist Peter Manning, Jewish activist Barbara Bloch and my friend Bashir who has recently returned from his native Palestine — he related the last Israeli checkpoint border abuse he'd experienced whereby he'd been let through with one of his children but not his wife and their other child, in an apparently arbitrary decision designed to humiliate, frustrate and deter Palestinians from visiting the land of their birth, all too commonplace. The Venezuelan Charges D'Affaires also sent regards and a supporting statement read out.
We gathered to affirm the rights of the Palestinian people, to show our solidarity and to call for Israel to finally adhere to almost 70 UN Resolutions on Palestine that it has willfully ignored, with US government backing.
Over to you, London, Washington, and other key cities in Europe, the Middle East, South America and elsewhere. I'm sure your spring rallies in the Northern Hemisphere will be spectacular and I hope our modest efforts, battling rain and stormy weather, will spur you on. From Sydney, with love.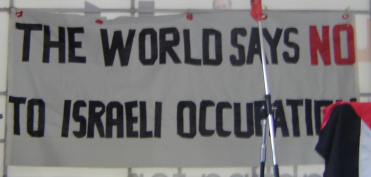 Two children with signs: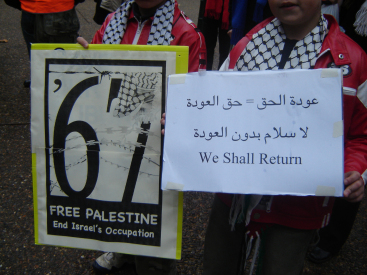 Bashir addresses the rally: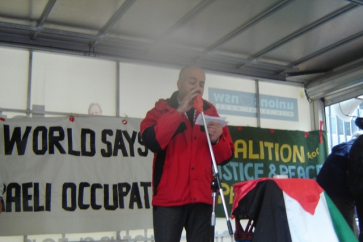 Journalist and academic Peter Manning addresses the rally: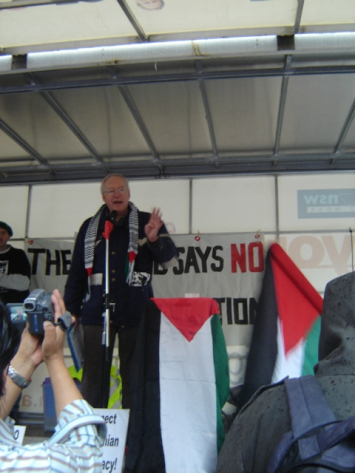 Jewish activist Barbara Bloch addresses the rally: