War spinner gets honorary degree, graduates protest

Dissent lives in US universities. It gets a good workout when Iraq War salesmen, enablers of more overt war criminals such as Cheney and Bush and their neocon junta, are awarded honorary degrees in, of all things, public service. In this case the awarding institution was the University of Massachusetts Amherst who decided to award Holbrook (Massachusetts)-born Andrew H. Card, White House Chief of Staff from 2001 to 2006 and head of the White House Iraq Group, an honorary degree despite weeks of strong protest from students, faculty and the community.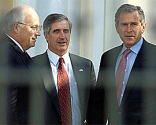 (click on thumbnail for larger image)

Selling War
A former General Motors lobbyist, Card was one of the major coordinating figures for the invasion of Iraq and contributed to the dissemination of bogus evidence and PR to justify the war. When asked about the Bush administration's timing in making their case for the Iraq war, then Chief of Staff Andrew Card responded that "from a marketing point of view, you don't introduce new products in August."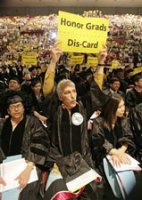 Recent congressional testimony also places Card in the middle of failed attempts to bully then Attorney General Ashcroft into supporting the illegal wiretapping of American citizens.
Goebbels Gets A Degree
At the May 25, 2007 graduate school commencement ceremony, hundreds of students, faculty, and staff protested the award with boos, catcalls and signs calling him a war criminal. To their credit, protesters included many faculty on stage. As the video shows, it is good to see so many of the graduates wearing the 'no Card' card in dignified protest against the farce that has tainted their ceremony.
About 200 protesters had staged a rally and press conference before the commencement; hundreds more protested inside the hall. There is now a campaign petitioning UMass. to rescind the honorary degree.
Video recorded and edited by Charles Jenks; © 2007 Traprock Peace Center. Also see their YouTube page
Card is no bit-player in the manufacturing of lies and spin to launch an illegal and immoral invasion of Iraq and the subsequent mass deaths, displacement and destruction of a whole country whose population was already battered by decade-long sanctions and a previous war.
Card was shrewd enough, apparently, to leave the bumbling Bush administration upon witnessing the unfolding debacle of Vietraq. If we can not expect that Card be put on trial and behind bars (he is already tipped to live a comfortable retirement, with no concerns about being brought to justice), we certainly should repudiate his being lauded with an undeserved honorary degree. UMass students and faculty are wise enough to reject this false honour to Card, even if the executive members who made the decision are not.