Amazing Face Illusion
Well I thought I wouldn't be posting as regularly but I've been sent such interesting material and I couldn't resist sharing this one. Being a fan of visual illusions, I'm always delighted to happen upon one I haven't already seen. This one has apparently been making another email/ blogosphere round recently but is one of the most recent illusions to be found.
Thanks to Vicki for forwarding this remarkable visual illusion: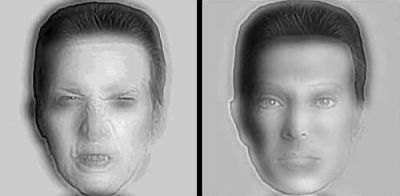 If you look at the above images from your seat in front of the computer, Mr. Angry is on the left, and Ms.Calm is on the right.
Get up from your seat, and move back a few feet, and PRESTO!! They switch places!!
Attributed to Phillippe G.Schyns and Aude Oliva of the University of Glasgow
I was meditating upon what meanings we could glean from this particular illusion, besides the message that things may not always be as they first seem, that cognition and perception are rather fluid processes. Perhaps that each thing contains elements of its opposite? Or that you'll never get a couple where each partner are both simultaneously calm? Just kidding, of course! ;)
_________________________________
Visual illusions, Optical illusions