Neocons growling on Iran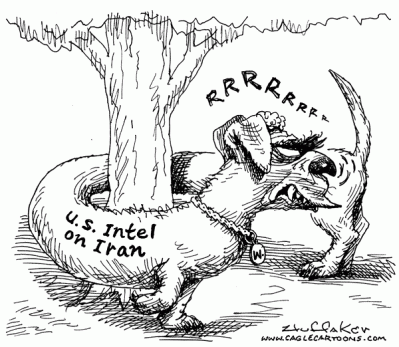 Sandy Huffaker, caglecartoons.com

Recent Press Picks
* Seymour Hersch, The Redirection, New Yorker (25 Feb 2007):
To undermine Iran, which is predominantly Shiite, the Bush Administration has decided, in effect, to reconfigure its priorities in the Middle East. In Lebanon, the Administration has cooperated with Saudi Arabia's government, which is Sunni, in clandestine operations that are intended to weaken Hezbollah, the Shiite organization that is backed by Iran. The U.S. has also taken part in clandestine operations aimed at Iran and its ally Syria. A by-product of these activities has been the bolstering of Sunni extremist groups that espouse a militant vision of Islam and are hostile to America and sympathetic to Al Qaeda.
* John Amato, Seymour Hersh: Negroponte–Iran Contra—Funds–al Qaeda…Oh my!, Crooks and Liars (25 Feb)
* Chris Floyd, Bush Faction Arming AlQuafa to Thwart Iran, Empire Burlesque (26 Feb)
* Trita Parsi has a valuable site of Iran politics related article links
* Michael Smith and Sarah Baxter, US generals 'will quit' if Bush orders Iran attack, The Times (25 Feb):
SOME of America's most senior military commanders are prepared to resign if the White House orders a military strike against Iran, according to highly placed defence and intelligence sources.

Tension in the Gulf region has raised fears that an attack on Iran is becoming increasingly likely before President George Bush leaves office. The Sunday Times has learnt that up to five generals and admirals are willing to resign rather than approve what they consider would be a reckless attack.
* Israel Insider staff, Report: Gulf states give Israel ok to use airspace for strikes against Iran, Israel Insider (25 Feb)
* Booby Traps Detonated by US Remote Controls, FarsNews (20 Feb)
* Ambassador Rasoul Movahedian, Iran is a force for peace, Guardian (22 Feb):
The latest salvo of rhetoric against Iran betrays a grand design to demonise the country and trigger a new adventurism in the highly sensitive Persian Gulf region. Again and again the "Iranian threat" is invoked as part of a neocon agenda to deepen US military involvement in the area. But its goal – to downgrade Iran's role in the region – is both implausible and ill founded.Iran, by contrast, has demonstrated throughout its history a belief in constructive engagement in international relations, at the same time as holding firm to its right to retain its important regional role.
* Léonid Ivashov, Iran Must Get Ready to Repel a Nuclear Attack, VoltaireNet (16 Feb 2007)
* Kristin Roberts, Any U.S. strike might not destroy Iran nuclear sites, Reuters (23 Feb)
* Ramzy Baroud, The Final Punch, Palestine Chronicle (22 Feb):
The configuration of the New Middle East — as envisaged by US Secretary of State Condoleezza Rice during the Israeli war against Lebanon in July-August 2006, most certainly has no place for more than one regional power broker, namely Israel.
* Hossein Derakhshan, Stop bullying Iran, The Guardian (23 Feb)
* Gary Leupp, AIPAC Demands "Action" On Iran, Counterpunch (24-5 Feb)
* U.S. developing contingency plan to bomb Iran: report, Reuters (24 Feb):
Despite the Bush administration's insistence it has no plans to go to war with Iran, a Pentagon panel has been created to plan a bombing attack that could be implemented within 24 hours of getting the go-ahead from President George W. Bush, The New Yorker magazine reported in its latest issue.
* William H. McMichael, U.S. War with Iran would be Navy, Air Force show: Analysts, Defense News (21 Feb)
* Terence M. Gatt, Iranian Nuclear Ambitions and American Foreign Policy, ICH (22 Jan 2006)