Portrait of the artist as a 15 y.o., on the moon :)
I recently happened upon this photograph, taken of a painting I produced in high school. This is all that remains, as I eventually chucked the canvas out. It was a nice trip down memory lane remembering my penchant for moonscapes, starbursts and electric bluebolts. ;)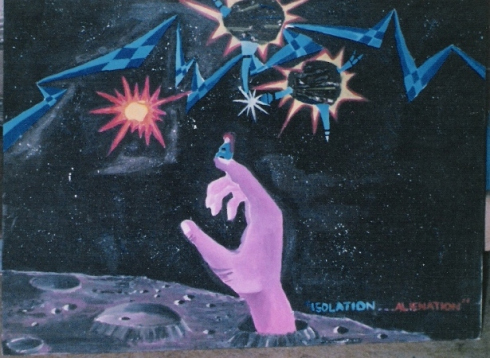 In a related serendipitous occurence, a story I wrote for my then best friend in junior high school is being sent to me. I'm so looking forward to it. Vikki is a dear friend for whom I wrote a keepsake novella right after she moved to the other side of the country when we were both but teenyboppers. We're still in regular touch and last week she mentioned she still had it and asked whether I'd like to receive it.
Written as it was at the tender age of 13, I am sure I'll be chortling at my immature hand but it'll be interesting to read back on a childhood piece of writing. I am touched by this lovely gesture and that she kept it for so long. Mind you, I also sentimentally keep things, notes, cards, photos and so on. Friends are such great time-capsule keepers!
Let's see, that's two things I used to do in childhood that I stopped doing with the advent of academe and adulthood: painting and writing fiction. Hope to resume one day after the PhD is in. However humble one's efforts (and mine undoubtedly will be), its always good to cultivate creativity and to nurture our imaginations.