Hail Correa!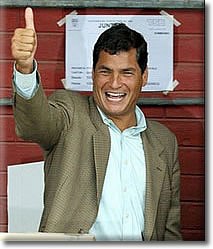 Chile, Bolivia, Brazil, Argentina, Uruguay, Nicaragua, Venezuela and now, very likely Ecuador: In another electoral turn to the left for Latin America, 43 year-old economist-academic Rafael Correa looks set to win the Ecuador election over his billionaire banana tycoon opponent, Alvaro Noboa.
Ecuador's Supreme Electoral Tribunal has declared that his comfortable lead is by 67% to his opponent's 33%.
A left-leaning economist who earned his PhD at the University of Illinois, he has pledged several initiatives that will not exactly please the current Washington administration, nor will his friendship with Venezuela's Hugo Chávez.
Correa wants a constitutional overhaul, the closing down of a US military base when the lease expires in 2009, doesn't plan to continue negotiations for a Free Trade Agreement with the US, and has indicated that Ecuador could rejoin the Organization of Petroleum Exporting Countries (OPEC). Ecuador is the Hemisphere's fifth largest oil producer.
During this, the second round of voting, Correa has notably toned down his rhetoric of debt defaulting, and Latin American watchers suggest that his radicalism may be much overstated. He certainly faces enormous challenges ahead but brings fresh hope and a lot of ideas and energy.
As Stephen Lendman writes in the Atlantic Free Press:
Correa will face huge challenges ahead when he takes office on January 15 in a country of 13 million, over 70% of whom live in poverty and who supported a man promising to help them with the kinds of social programs Hugo Chavez instituted in Venezuela. … He'll be Ecuador's eighth president in the last decade including three of them driven from office by mass street protests against their misrule.
… Correa said he'll deliver a "citizens' revolution" and supports beginning it by calling for a constituent assembly to write a new constitution, a pattern similar to the one Hugo Chavez followed after his election as Venezuela's president in 1998. He called for renegotiating the country's $16 billion foreign debt and hasn't ruled out an Argentine-style default to free up money for vitally needed social programs that include 100,000 low-cost homes, doubling the $36 "poverty bonus" 1.2 million poor Ecuadorans receive each month and raising the minimum wage.
He also expressed strong opposition to any new "free-trade" pact with Washington on its one-way terms and affirmed his determination not to renew the lease for the US military base in Manta he said he won't allow to remain open unless the Bush administration allows his country the right to have its own in Miami – a clear sign of his contempt for George Bush he called "dimwitted" in the first electoral round.
Rafael Correa faces an uphill struggle to help his people. He'll have strong opposition in Ecuador's legislature as well as a hostile Bush administration that will do all it can to subvert him. He does have a few things in his favor, however, he can exploit to advantage – overwhelming support from his people, the nation's oil wealth giving him a measure of independence from Washington and the international lending agencies it controls and two very supportive and friendly neighbors in Hugo Chavez (he promises closer ties with) and Evo Morales in Bolivia. The ball is now in Mr. Correa's hands, and it's his move to show if he can run with it.
Peoplesgeography wishes him and the people of Ecuador well and watches his election with interest.