Guns and butter
The cartoon by Tohby Riddle below for me recalls Thomas Friedman's oft-cited quote which just about every undergraduate international relations student knows (not that we're of his ideological persuasion, mind, nevertheless this is a telling quote):
"The hidden hand of the market will never work without a hidden fist. McDonald's cannot flourish without McDonnell Douglas, the designer of the F-15. And the hidden fist that keeps the world safe for Silicon Valley's technologies is called the United States Army, Air Force, Navy, and Marine Corps." (1999)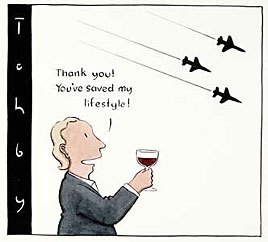 Off for the weekend to do some marking and other sundry stuff, may skip a day or two.
Have a good one. Happy Birthday Dad!