Earth. Best before: the Industrial Revolution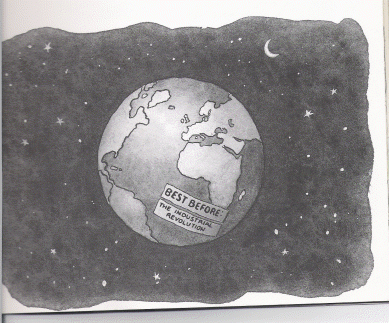 Cartoon by Stan Eales, from his wonderful First Book of Eco-Humour
As the Chinese symbol for crisis also denotes opportunity, there's a side of me that looks forward to what some expect to be a system-wide civilisation crash as we collectively grapple with learning to live sustainably.
Paul Kingsnorth to some degree mirrors my sentiments about the possibility of the 'end of civilisation as we know it' in his reflections on the reaction to the Stern Report:
Everyone seems so very keen to avoid 'bringing civilisation crashing down', as George puts it. Well. Am I the only one who has a sneaking, unspoken desire for it to do exactly that? Am I the only one who thinks that industrial civilisation is the problem and not the solution? Am I the only one who worries that a combination of advanced technology, overpopulation, fearsome weapons and human nature might actually be worth stopping in its tracks, before it does more damage than it has already done? Am I the only one who thinks that such an ending would actually be a new beginning – and that stopping the machine might be, hell, a good thing rather than The End of everything?

… (T)he prospect of this sick, atomised, destructive, materialistic mass of potage we call 'civilisation' 'crashing down' is actually rather an appealing one. Sorry.
Also see:
Ocean fish, seafood could collapse by 2048: study