Conscientious objection lives
Refuseniks: IDF employs apartheid regime
High school seniors hang banners from Tel Aviv highway bridges, refuse to serve in IDF, contribute to occupation *See also Demonstrators: Refuse to be soldiers of occupation **

by Yael Ivri :: Y-Net :: 5 October 2006

The group of youths that signed a letter two weeks ago refusing to "be soldiers of the occupation" hung banners saying the same from Tel Aviv highway bridges Thursday.
Two of the future conscientious objectors, Omri Evron, 19, and Lior Wolinic, 18, were meant to enlist in November, but both declared they had no intention of doing so.
Wolinic explained, "Any type of service in the IDF contributes to the occupation. It doesn't matter if I serve in the Kirya in Tel Aviv or as a Kashrut supervisor; it's all part of the occupation and apartheid regime employed by Israel against the Palestinians."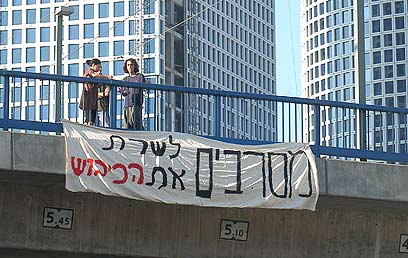 Refuseniks: Against the occupation (Photo: Yaron Brener)
The disengagement and evacuation of the settlements did nothing to change the stance of the refuseniks, especially in light of their consequences and the fact that they were one-faceted steps.
"Evacuating the settlements was a positive step in itself, but its result was destructive," Wolinic said, "Instead of Gaza becoming part of a future Palestinian state, it became a prison. Nothing enters and nothing leaves, and the Palestinian population is being starved. The solution is negotiations, not one-faceted steps."
The refuseniks believed that the solution to the conflict lies in speaking with Arab states and establishing a Palestinian state.
Evron said the recent war with Lebanon and its results made things even more obvious, "Today, it is clearer than ever that we don't have the option to live by the sword. There is a serious threat that must be dealt with, but not with tanks."
Wolinic also criticized the US and President George Bush's policies. He said that it was very 'in' to apply the term "axis of evil" these days when referring to Syria and the Palestinian Authority, and therefore avoid the issue of negotiations.
"We need an Israeli leader who has courage," Wolinic said.
Although the refusniks protested outside the Kirya in Tel Aviv just two weeks ago, their impending draft motivated them to speed up their protesting pace.
Evron explained, "We are not going to jail out of Masochistic ambitions. We want this to echo in the public, both in Israel and in the Arab world, so that people can know there are other israeli's, who aren't willing to participate in this bloody cycle."