To Shoot An Elephant
We'd previously posted the trailer of this important documentary; the full video below is well worth watching.  During Israel's deadly assault on Gaza in December 2008, Alberto Arce and Mohammad Rujailah were among only a few remaining internationals who embedded with ambulances and among Palestinian civilians as witnesses.  "To Shoot an Elephant" (the title is inspired by a George Orwell essay) is an award-winning documentary available in several language subtitle choices.
A note on translation from the Arabic: its worth reading this piece by Marie Dhumières: 'Bad Translation Makes Fundamentalists Of Us All'. Alhamdulilah (Alleluia, thank God!) someone understands the commonality of everyday phrases in Arabic like Enshallah (God willing) and other non-literal religious-sounding phrases as simply part of speech. I would also add the curious tendency by some western translators to leave the word Allah untranslated into God. This is worth keeping in mind when reading off the subtitles.
Vodpod videos no longer available.
A note from the director: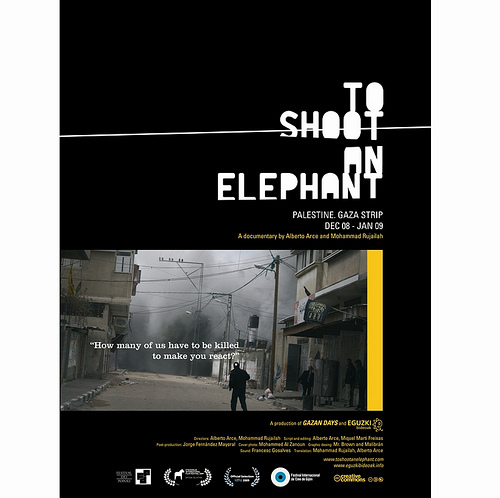 Gaza Strip has been under siege since June 2007, when Israel declared it an "enemy entity". A group of international activists organized a siege-breaking movement, the Free Gaza movement. Thanks to their efforts, and despite the Israeli ban on foreign correspondents and humanitarian aid workers to cover and witness operation "Cast Lead" on the ground, a group of international volunteers: self organised members ofthe International Solidarity Movement were present in Gaza when the bombing started on December, 27th 2009. Together with two international correspondents from Al Jazeera International (Ayman Mohyeldin and Sherine Tadros), they were the only foreigners who managed to write, film and report for several radio stations what was happening inside the besieged Palestinian strip.
Were they journalists? Were they activists? Who cares! They became witnesses. Being a journalist or being whatsoever depends on how you feel. It is an ethical responsibility that you manage to share with a wider audience what you and those who are around you are going through. It will be the result of your work that will lead you to a professional career as a journalist or not, rather than pre-assumptions and labels. Make them know. Make those who you want to: listen and be aware of what you are aware of. That is a journalist. Having a card, with "press" written on it, or getting a regular salary is not necessary to be a witness with a camera or a pen. Forget about neutrality. Forget about objectivity. We are not Palestinians. We are not Israelis. We are not impartial. We only try to be honest and report what we see and what we know. I am a journalist. If somebody listens, I am a journalist. In Gaza´s case, no "official journalists" were authorized to enter Gaza (apart from those who were already inside) so we became witnesses. With a whole set of responsibilities as regarding to it.
I have always understood journalism as "a hand turning the lights on inside the dark room". A journalist is a curious person, an unpleasant interrogator, a rebel camera and a pen making those in power feel uncomfortable. And that is the concept of my work in Gaza: To fulfil a duty in the most narrated conflict on earth, where the story of the siege and the collective punishment that is being imposed by Israel on the whole population of the territory in retaliation for rockets sent by Hamas will never be told with enough accuracy. For this it has to be lived. I sneaked inside Gaza despite Israeli attempts not to allow us to enter and I was "politely" asked to leave by those in power in Gaza. That is my idea of journalism. Every government on earth should feel nervous about somebody going around with a camera or a pen ready to publish what he or she manages to understand. For the sake of information, one of the biggest pillars of democracy.
This is an embedded film. We decided to be "embedded within the ambulances" opening an imaginary dialogue with those journalists who embed themselves within armies. Everyone is free to choose the side where they want to report from. But decisions are often not unbiased. We decided that civilians working for the rescue of the injured would give us a far more honest perspective of the situation than those whose job is to shoot, to injure and to kill. We prefer medics rather than soldiers. We prefer the bravery of those unarmed rescuers than those with -also interesting, but morally rejectable experiences who enlist to kill. It is a matter of focus. I am not interested in the fears, traumas and contradictions of those who have a choice: the choice of staying home and saying no to war.
Alberto Arce