'Liberate all ghettos': Free Gaza, Palestine action in Warsaw
From Poland to Palestine: support for the Gaza Ghetto in the old Warsaw Ghetto …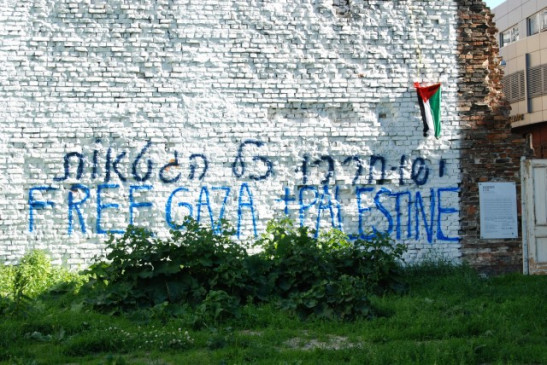 From Polish Palestinian solidarity site Kampania-Palestyna:
Yesterday, Israeli and Polish activists met in the ruins of Warsaw's old Jewish Ghetto.

The activists sprayed 'Liberate All Ghettos' in Hebrew, followed by 'Free Gaza and Palestine' in English on a wall of an original block in the ghetto. The block is across the street from the last fragment of the remaining perimeter wall of the Ghetto. They also hung Palestinian flags from the wall.

This was first time such an action took place in the ghetto.

Yonatan Shapira, former Israeli Air Force captain and now refusenik and BDS activist, said:

'Most of my family came from Poland and many of my relatives were killed in the death camps during the Holocaust. When I walk in what was left from the Warsaw Ghetto I can't stop thinking about the people of Gaza who are not only locked in an open air prison but are also being bombarded by fighter jets, attack helicopters and drones, flown by people whom I used to serve with before my refusal in 2003.

I am also thinking about the delegations of young Israelis that are coming to see the history of our people but also are subjected to militaristic and nationalistic brainwashing on a daily basis. Maybe if they see what we wrote here today they will remember that oppression is oppression, occupation is occupation, and crimes against humanity are crimes against humanity, whether they have been committed here in Warsaw or in Gaza'.
Read the rest at their site and check out more of the photos.